Featured content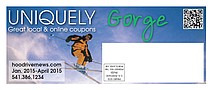 Uniquely Gorge coupons
---
Jim Drake's Entertainment Blog

Ural Thomas and the Pain play River City Saloon on Friday, Feb. 13. Tickets are $8 in advance, $10 at the door. Thomas' first stint in music, decades back, had earned him opening gigs for Stevie Wonder and James Brown. He released a series of singles in the 1960's, including "Pain is the Name of Your Game."

Jim Drake's Entertainment Blog

The Brothers Gow are in Hood River on Tuesday, Dec. 2, at River City Saloon. The band talks about giving back to the community via a foundation that provides instruments to school kids.
'Keys to Talent:' students excel in creative works

Hood River Valley High School honored artists and writers on Friday with an all-school Fine Arts assembly.

House concert with Lucia Comnes and Daniel Carr; Tony Smiley plays Pint Shack; 'Heroes not Welcome Home' exhibit opens March 14; more

Since last April, drummer turned DJ Jeff Minnick has been broadcasting the classic country sounds of the 40s, 50s and 60s with his two-hour Tuesday night program The Countryside, live on the air and over the internet from 7-9 p.m.

Hood River Valley High School sophomore Brynn Searcy is an artist. And a state and nationally recognized artist at that.