Featured content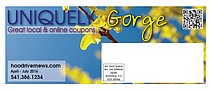 Find great deals Gorge merchants are offering this season!
---
Jim Drake's Entertainment Blog

Ruth Moody and her band plays in The Dalles June 10 Podcast Interview with Jim Drake Ruth talks about her influences, collaborating with Mark Knopfler of Dire Straits and how a banjo can save your songwriting. 10 min. Red House Records artist Ruth Moody and her band are coming to St. Peter's Landmark Church in The Dalles on Friday, June 10, at 7 p.m. "Ruth is a Juno Award winning songwriter and one of the founding members of the folk super-trio The Wailin' Jennys. She's currently touring behind her solo album "These Wilder Things." Tickets are $15 at the door. Old St. Peter's Landmark Church, 3rd & Lincoln Streets, The Dalles.

Jim Drake's Entertainment Blog

McDougall's CD release show in Hood River is Friday, May 20 at River City Saloon, for his newest recording "Reaching For Some Light."

Jim Drake's Entertainment Blog

Storm Large and her band with the Columbia Gorge Sinfonietta play Saturday, May 7, at Hood River Middle School Auditorium.
In what has become a yearly tradition, the 2016 Pacific Northwest Interfaith Peace Walk — "spreading peace and hope for a peaceful world, 71 years after Hiroshima" — makes its way to the Gorge on July 27.

I love seeing how this community comes together selflessly to help, support, and encourage one another. Especially now with so much divisiveness in the world, we definitely need activities, events, and causes to bring us together and find common ground. When we connect and engage in a positive way, amazing things happen.

TWIST-OFF fate: customers at food carts in the Hood River News parking lot have been imbedding beverage caps in the tar seam. There's now a line of more than a 100, creeping ever eastward.

Canadian musician Jonathan Maracle will present his ministry of hope and healing Monday, July 25 at 7 p.m. at Hood River Alliance Church, 2650 Montello. The event is free and open to the community.