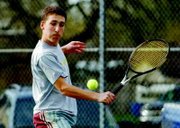 By ERIK HIDLE
News intern
On July 30 Darryl and Darvel Lloyd sat at the summit of Mt. Adams, on a large buildup of snow in front of the summit lookout. They posed for a picture, exactly as they had 50 years ago.
The Lloyd brothers' first excursion up Mt. Adams was, as Darryl says, "a misadventure at best." The 10-year-old twins set foot for the summit with their father, Les Lloyd, outfitted in denim pants and coats, cotton gloves and flimsy boots. The less-than-optimal mountain gear was selected due to the sheer toughness of their father, who Darryl refers to as, "a real forester."
"He was a seat-of-the-pants climber," said Darryl.
At the summit, the brothers posed for the picture that would later inspire the 50th anniversary climb.
"We were sick from the altitude, we were tired from the climb and the wind almost blew us off the mountain," said Darryl, "but we were smiling for that picture. Typical 10 year-olds."
The anniversary climb was a "day of history" according to Darryl. "I'm not saying that we set history, because we didn't," said Darryl, "We weren't the youngest to climb Adams in 1953 and we aren't the oldest to climb it now. But the idea that we came full circle with the first climb is something really historic for me in the sense that I have watched the mountain for 50 years."
The most recent climb began on July 29 with HC Tupper, who was celebrating another 50 — his birthday — and HC's son, Evan. The group camped at 8,000 feet and reached the summit after six hours of climbing early Wednesday. This climb was more of a "prepared" journey, according to Darryl. However, it was not without its minor mishaps.
"It was the hottest day of the year and we left our crampons at home," said Darryl, "That was a mistake, we could have used the crampons. Regardless, we were forced over onto Suksdorf Ridge to continue our ascent. That is where we found the highest plant on Mt. Adams. It was a 'shortfruited smelowskia' or the more common name 'alpine smelowskia' at 11,000 feet."
"Also, I got a bit dizzy from the altitude," said Darryl, "I usually don't notice it. Maybe it was just another memory from 50 years ago."
Darryl Lloyd, owner and photographer of Long Shadow Photography, has explored the land on Mt. Adams over 100 times in his life, "I never really counted," said Darryl, "and I haven't summited every climb. That isn't what it's about for me. I just really like being up on the mountain. I like taking pictures, documenting the mountain. It's the monarch of Washington's South Cascades."