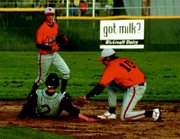 GOVERNMENT CAMP — What do you get when you combine the family fun of an amusement park with the adrenaline rush of self-powered rides?
A lot of happy campers.
With only two weeks of summer vacation left, parents everywhere are looking for a way to keep their kids occupied before they hit the hallways.
"I'm bored," is a common phrase this time of year, but it doesn't have to be. Mt. Hood Ski Bowl is happy to offer an alternative to video games and make-believe.
Now in its 15th year, Ski Bowl's Summer Action Park offers high-energy activities such as Indy Karts, zip lines, bungee jumps and Alpine Slides, and is ideal for kids and parents alike.
For as little as $25 per person and a quick 45-minute drive down Highway 35, the family can also enjoy a round of mini golf, a horseback ride, a kiddy canoe ride, mountain biking and disc golf.
There are batting cages, innertube rides, and a fun house — not to mention a kids' rock wall, a Space Rotation ride, volleyball, horseshoes, badminton, kiddy Jeeps, and more.
"The park is definitely intended for people of all ages," said sales and marketing manager Robb Hutson.
"We've got everything from the kiddy rides for the 3 year-old to the bungee jump and Indy Karts for people 10 and over. It really has something for everyone," he said.
Hutson said that the Action Park derives most of its business from tourists and the Portland market. But he wouldn't mind getting the word out around Hood River either.
"We don't do a whole lot of advertising outside Portland," Hutson said. "But we're drawing up to 4,000 people a day, and nearly 100,000 people per summer. Most days are pretty busy, so people must know about us."
The Summer Action Park has been operating in its current capacity since 1988, while the Alpine Slide was introduced in 1980. The half-mile roller-luge course is the only one of its kind in the Northwest, and continues to be the main attraction at the park.
"Part of the fun of the Alpine Slide is that you can control your speed," Hutson said. "It's not like a roller coaster where it's all controlled by machine. You control the speed of your descent, which makes it more exciting."
Similarly, the Indy Karts are also very individual, with more experienced riders cruising through the Figure 8-like course with relative ease, while the newcomers tend to spin out more.
The age limit for the Indy Karts is 12 years-old, but two-seaters are also available for younger children to ride along.
"The carts are all brand new this year and are much easier to control than the old ones," Hutson said. "We also backed off the speed a little so that people could maintain better control."
Another main attraction at the Summer Action Park is the 100-foot, seven-story bungee jump. An enormous air mattress below cushions any falls, but Hutson said "there has never been an accident."
Ski Bowl will continue operating the park seven days a week through August, and then move to a weekend schedule in September. For more information, visit www.skibowl.com.