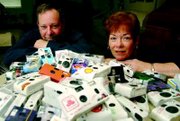 The fourth-annual Founder's Cup Golf Tournament is in the books.
And, because of Saturday's fundraising event at Indian Creek, a number of local students may be able to buy books this fall.
The Cup, presented by Columbia River Bank and the DLR Group, raised more than $16,000 for the Columbia Gorge Community College scholarship fund.
But the money wasn't the only thing special about the event. Tournament coordinator Darlene Marick said the whole day was "wonderful," and thanked a long list of sponsors, volunteers and participants for their support.
"Together, we raised more than $16,000 for our scholarship fund, which is the largest total in our four years," she said. "And what is special about this event is that 100 percent of the proceeds go toward the fund."
Thirty-four teams from around the Mid Columbia joined a sponsor list that included $5,000 contributors Abruzzo Italian Grill, CGCC president Dr. Frank Toda, Gerding/Edlen Development Co., and Waste Connections.
"The event costs a lot of money to run, and each of our sponsors deserves a big hand for making it work," Marick said. "As a result, we were able to give away some great prizes, have a nice lunch at Divots, and raffle off a few items."
Each of the winning teams in Low Net and Low Gross received $400, while the second-place teams took home $200, and the third-place teams each pocketed $100.
The event was a four-person best-ball scramble, and prizes were also awarded for Closest to Pin, Long Drive and putting.
Taking home the first-place trophy in Low Gross was Hudson Insurance agency with a score of 62. Second place went to Dan Homer Construction with a 64, and Doug Sawyer's State Farm team came in third with a 65.
On the Low Net side, attorney Charles K. Toole's team won by only two hundredths of a point over Northwest Natural "Team A" (54.625 to 54.875). Third place went to The Dalles Moose Lodge at 56.25.
In the skills competitions, Erin Mason of Hood River won the men's Long Drive contest, while Nancy Slusher outdrove the women's field. Ron Stinson was the Closest to Pin for men, however there was no women's winner.
Last but not least, Tony Walton of the Brian's Pourhouse team, won the putting contest.
"Unfortunately, no one won the car," Marick said, referring to the eighth hole, where C.H. Urness Motors was giving away a Dodge Neon for a hole-in-one.
"I guess that will give us something to shoot for next year."