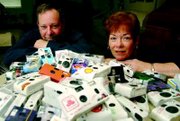 Wearing her trademark straw hat and looking for all the world like a sweet little old lady, Doris Haddock, or Granny D as she is more widely known, is a force to be reckoned with.
The description fits well enough, given her sweet demeanor, 5-foot stature, and age of 93, but she has the mind and the inner fire to match any youthful person, along with the wisdom that comes with living through those ninety-plus years of United States history.
Granny D spoke Saturday evening to a crowd of nearly 100 at Riverside Community Church, warning that, "This is a very critical time — much more than most people realize," when the "politics of love and the politics of fear are pitted against each other in a naked struggle that will define not only the 21st Century but centuries to come."
Of biggest concern to her is the return to the political climate of the days of the Industrial Age, when robber barons were "destroying the economics of family farms and family businesses, corrupting our governments with great bribes and other deals, and polluting our food, our land and water and air. They tore our families apart and dragged us into the hardest of hard times."
But, she says, "I am not talking about all corporations or all big business. Corporations of reasonable size are but groups of people. Beyond some point, however, the humanity falls away from an organization and all that is left is the will to power and profit."
Granny D made her famous 14-month, 3,200 mile walk across the United States in 1999-2000 to bring attention to the need for campaign finance reform. She still stresses that need. But her message now is that we have the tools, both electronic and democratic, to "become the large counterbalance to these (corporate) powers that our government no longer is. By communicating and acting in concert, we can reward the good companies and keep our money clear of the worst."
Granny D was given a standing ovation by the audience, who went on to quiz her on such things as whether a specific incident prompted her to take her walk across the U.S. (the answer was yes — learning of a $50 billion subsidy to the tobacco industry that was tacked on to a bill in the middle of the night and successfully pushed through) and what her "take" was on the recent blackout on the East Coast ("Well, we're using too much power!")
On Sunday Granny D took her place as the eye of the giant peace dove formed by a crowd of people at the Dove-In held at Tom McCall Waterfront Park in Portland and photographed from the sky by Mosier artist Daniel Dancer.
"I have received a number of honors but none as remarkable as that," she said.