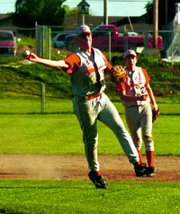 Sixty Hood River County students will begin school on Tuesday with new backpacks full of supplies, thanks to a school supply drive spearheaded by the Hood River County School District and Salvation Army.
During August, drop boxes were set up at Rosauers, Rite-Aid and Wal-Mart where people could donate school supplies for children in need. In addition, local churches — including the Church of the Nazarene, Riverside Community Church, Valley Christian Church, Our Redeemer Lutheran Church, Immanuel Lutheran Church and Hood River Alliance Church — collected supplies from their congregations for donation to the drive. New backpacks were purchased from donated money and Salvation Army general fund money.
Students in grades K-8 who are eligible for the free and reduced lunch program or meet food stamp requirements were able sign up to receive the backpacks and supplies on a first-come, first-served basis. The 60 available packs were quickly spoken for, with an additional 60 students on the waiting list.
"The community has obviously demonstrated a much greater need than we can provide for this year," said Catherine Dalbey, a fifth grade teacher at Pine Grove Elementary who helped organize the drive. Dalbey and the school district plan to make the supply drive an annual event, in hopes that more students are able to start school with the supplies they need.
"It's nice to know we're filling a hole in the community that seems to be there," Dalbey said.