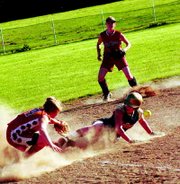 By JUDY DEHART
Special to the News
Ronald Eugene Maag was born in Jamieson, Ore., on April 22, 1949, to Warner and Mary Kay Maag, the oldest of six children. Graduating from Vale High School in 1967, Ron attended Treasure Valley Community College for two years, earning an associate's degree in drafting. He then attended Oregon Technical Institute, at Klamath Falls, for two more years, graduating with a bachelor's degree in mechanical engineering.
Right after college, in 1971, Ron went to work for Xerox in Van Nuys, Calif. His position with Xerox was as a copier technician.
While in Van Nuys he attended church at St. Genevieve parish, and became more involved by attending daily mass, often serving as an usher. After mass he would have breakfast with Mark Allen Smith, known for his TV role in the series "The FBI." Smith commented to Ron, "I think you have a vocation to the priesthood. Call Mater Del Rosa Retreat Center and spend three days there considering this vocation."
Ron made that call, and took part in a silent retreat with 80 men. The Retreat Master warned it was not an easy life, but he encouraged Ron to seek it. Ron spent the next six to eight months thinking and praying. After this time he resigned from Xerox, saying he was pursing the vocation of priesthood, with the support and encouragement from those at St. Genevieve parish.
Returning to Oregon, Ron met with the late Rev. Joseph Heyes who listened to him, and then took him to meet Bishop Thomas Connolly, newly sent to the Baker Diocese. Upon Ron's visit to the University of Portland, the late Bishop Waldschmidt invited him to study and become a Holy Cross priest, but after visiting Mt. Angel Seminary, and with the encouragement from his bishop, Ron enrolled at Mt. Angel.
He began seminary on Jan. 1, 1973, taking five terms of philosophy. Upon graduating, he began four years study of theology, again at Mt. Angel, receiving a master of divinity degree.
As a deacon of the church, Ron served in Prineville, and was ordained on Aug. 14, 1978, at the Vale Union High School by Bishop Thomas Connelly. He served in The Dalles, Condon and Klamath Falls, and in 1998 came to his current parish of Hood River. He is proud to be one of the few Oregon-born pastors serving the Baker Diocese.
Reflecting on his time in the priesthood, Father Ron believes Notre Dame played a large part in deepening his commitment. He was sent to the Midwest to preach for funds for the Propagation of the Faith program that supported Catholic Schools in a Missionary Diocese.
He then stayed at Notre Dame and enrolled in theology classes while fulfilling the preaching mission. There he was introduced to a larger vision of the church, and has continued taking summer classes there for many years. A student of scripture, Father Ron has pursued scripture classes at Notre Dame over the summers, earning a master of arts degree in systematic theology, as well as a masters certificate in Biblical studies.
His course this year included Wisdom Literature of the Old Testament. His second course taken this summer was on John's gospels, in the New Testament. Father Ron's personal favorite New Testament scripture is from John 4, "The Woman at the Well."
When asked about his responsibilities as a priest, Father Ron replied that he enjoys listening to the needs of the people, learning how to listen and then work with the people.
He prefers working with people, rather than working with paper, but is challenged by the paper, one of the reasons for his continual studies. His hope for the Hood River parish is to have a larger church, very much needed to accommodate the growth in attendance of parishioners.
He feels the make-up of the people is very diverse and cosmopolitan, as there are several cultures and activities that engage the people. He feels these differences bring healthiness to the church and to the community.
Community involvement has been a strong point for this pastor, who currently serves the Gorge Ecumenical Council, made up of many area churches, and gives full support to the growing Hispanic community. While serving St. Peter's parish in The Dalles, he was instrumental in the development of St. Vincent De Paul Society at its beginning. In the past, Father Ron served as the State Police chaplain while in Klamath Falls, and the Civil Air Patrol chaplain while in Hood River.
To further his knowledge of the Hispanic language and culture, Father Ron studied in Mexico during the month of August.
To recognize his 25 years as a priest, the parish of St. Mary's in Hood River is planning a celebration Sunday. Mass will be said at 2 p.m. in Jackson Park, with a multi-cultural potluck picnic to follow.
Special guests will be the family and special friends of Father Ron. Invitations were sent to his Bishops and fellow priests with the hope many might be able to attend the celebration. The event is open to the public, and all are welcome and invited to this celebration.
For more information or directions to the park, contact the church office at 386-3373.