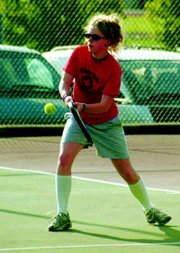 A host of hose men converged on a dying fire chief's house Thursday, and the muggy night crackled with laughter and good memories.
"This is one group of guys I'll never forget," said Leonard Hay, Hood River fire chief from 1977-82. "It makes you feel really good to know there's these many guys around who care," said Hay, surveying the 40 fire hall associates, and younger firefighters including his own grandson, who filled his carport and reminisced over lemonade and beers.
His family staged the surprise gathering for Leonard, who is 80 and dying of pancreatic cancer.
"I came out here and saw all the stuff set out here and thought, 'oh, what is taking place?'" said Leonard, who in his younger years was a dirt track racer and Little League coach in addition to other civic activities.
The firefighters posed for a group photo by the department's 1921 LaFrance engine in front of the house.
"They're a great group. We all have a lot of respect for each other," Leonard said.
His wife, Iris, moved quickly about, bringing out fresh pitchers of lemonade. She stopped long enough to say how much she appreciated that so many old friends came to see Leonard.
"It feels very nice. We really appreciate all the guys coming over," she said, adding with a laugh, "I've danced with all of them."
Leonard's spirits have declined along with his health in the past few months, said his son, Keith.
"It could be any time," Keith said. "It's up to him and his spirits. That's why I wanted to boost them.
"He was really involved in the fire, and he was in there so long and served the community for so many years. I just started calling people," Keith said.
Leonard served the Hood River department from 1951-83, volunteering at the same time he co-owned Allen-Hay Motors and later E and L Auto Parts, now owned by Keith and Kevin Hay.
Leonard worked at the shop part time until March, when he began to feel sick. He was diagnosed with cancer in June, after tests in March and April. Chemotherapy had limited effect, and recent exploratory surgery showed the cancer had worsened.
"He's always been very active, in very good shape for his age, and to have everything stop all at once I think is really hard on him," Keith said.
Among the friends to attend were other former firefighters battling cancer, Keith said. But the will to see Leonard was strong, Keith said.
"One guy just had a brain aneurism. I called and talked to his wife and she said there was no way he can go. Five minutes later she called back, 'you can't keep him away.'"
"We had a camaraderie, you see here," said Bill Pattison, who succeeded Leonard as fire chief. "We were all close, like family. We had things that held us together. I compare it to a fraternity, except we lived together a lot longer than four years — 20 or 30 years."
Pattison recalled that "we had some bad fires. What got us through was humor. And many of us came out of the military, Leonard and others through World War II and others like me, Korea. We knew what it was to be a unit. Leonard was successful as a chief.
"He was highly recognized and highly respected. He knew what he was doing and he was always in command," Pattison said. Former fire marshal Bob Palmer, who served under Hay, called him "a great boss."
"I bet he's the happiest man on earth to see all the old guys, just to see the old crew again. Many a fire we went to ..."
On Thursday, many of the old guard wore their 1950s-era dark blue uniform shirts, with the distinctive HRFD on the chest. But one young man, dressed in the light blue of 2003, was Leonard's grandson, Graham Hay, a Hood River Valley High School senior and volunteer with West Side Fire Department.
"It's really something that will liven him up," Graham said of Thursday's gathering. "Being in the fire department was a big thing for him. Having all these men here will really make his day."
Also present were his grandchildren, Heather Bacci, and Amy and Alisha Hay, and his daughters-in-law, Mary Ann Hay and Teri Russom-Hay.
Graham said the assemblage "looks to me like they enjoyed being firefighters. I hope to build the same kind of experience in the fire service."