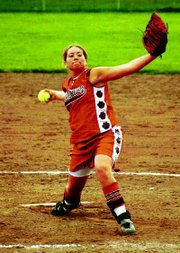 By CANELA WOOD
News Intern
On July 4th, an excited artist and former fashion designer opened a humble yet edgy new restaurant known as Jeans@110.
The restaurant can be found at 110 5th St., where Wy'East Naturals was formerly located.
"For the first month we were open people would walk halfway in the restaurant and then give me this confused look — they were looking for Wy'East," said Jean Vercillo, owner of Jean's@110.
What they actually came to was quite different than the natural foods store that had sat there before. Jean had completely renovated the space, and turned it into a restaurant that almost mirrored a New York loft, with areas that resemble a living room, dining room, breakfast nook, and a modernized kitchen. "I am finally at home in this area," said Jean, who grew up in upstate New York.
"The first thing I did was moved the vents. I set the kitchen with a view from both doors so it would be the main focus. I maximized the windows, most people never knew they were there. I also expanded the bar by the doors and raised a seating area," Jean said.
While Jean was more focused in fashion design she spent some time in Europe and in the orient.
"I felt like people were out of touch with reality," Jean said.
Jean wanted to find a new way of providing food. Her goal has been to serve local regional and seasonal foods, all things that can be found in this valley.
"Rustic food with a twist, everything we eat can come from here," Jean said.
For the first few months Jeans@110 was open, most of their featured items were things the employees made.
"They (the employees) made a great contribution, but I wanted a chef who shared my views about providing food," Jean said.
Jean's friend Kathy Watson, had been to dinner at an organic farm in Underwood, where Gregory Smith had been working selling lettuce, and prepared dinner for Kathy and the farm owner. Kathy introduced Jean and Greg, who came to realize that they had similar views when it came to preparing food.
"Within five minutes of talking with Greg I wanted him to be my chef. What are the odds that two people from different generations and one being from the Midwest and the other from the East coast would come together and find that they are of the same mind," Jean said.
Greg attended culinary school in Atlanta, Ga., and went on to be the chef of a very prestigious restaurant in Chicago. He later moved to the Northwest because he wanted to work with food from the ground up. That is when he began selling lettuce for the organic farm in Underwood. Greg became the chef for Jeans@110 just prior to Labor Day weekend.
"We feature flavors that are familiar with new ways of presenting them, by minimizing the amount of food but not sacrificing any flavor," Greg said.
"We take food with a humble beginning and turn it into something edgy on a plate," Jean said.
Jean and Greg are committed to providing only locally grown and produced foods, they want to personally go and see where all of their food is coming from.
"All of my employees will be out to the farms by the fall," Jean said.
When it comes to Jeans@110, throw out everything you know about a restaurant. People aren't rushed in and out, they are encouraged to stay and eat. Many even eat on the couch.
Jeans@110 has a motto that they label as, "what we're all about,"
"Welcome. please, find a seat in just the right corner ... there's your neighbor ... the food we serve grows in the shadow of Mt. Hood ... and the women in the kitchen? uh-huh, it's definitely a good day on 5th Street."
Jeans@110 is currently open six days a week (closed on Wednesdays) from 7 a.m. to 3 p.m. They serve a European style breakfast from 7 to 8 a.m. featuring mini quiches, tarts, scones, and other small breakfast items. Breakfast/brunch is then served from 8 to 11 a.m. on the weekdays and until 1 or 2 p.m. on the weekends. Brunch includes a coconut-banana French toast served with peaches that are roasted in olive oil, mint, and honey. Their lunch menu also includes sandwiches and roll-ups. Another favorite are their pork posole tacos, made with brazed pork and a posole corn, that is similar to hominy and when cooked has a meaty texture.
Using basil from a friends garden Jeans@110 also features penne pasta with pesto, roasted peppers and tomato garnish.
With in the next few months Jeans@110 plans to expand it's menu to include dinner.
"The sky's the limit for dinner, this is a huge agricultural region," Greg said.
"We have a really good local following, some guys will eat here twice a day. This has connected us much more to the community than we had thought," Jean said.
"I haven't done any advertising, but when someone comes in, they always come back."