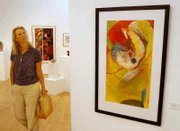 MADRAS — Neither of the Hood River Valley cross-country coaches expected a miracle last weekend when their teams traveled to the Madras Invitational.
Both Kristen Uhler and Rich Hedges have rosters full of young runners, and only a handful of seniors are available to help shepherd them along.
But that doesn't mean the Eagles aren't going to be competitive this year. Despite finishing eighth (girls) and 11th (boys) overall, both coaches took away numerous positives from the 14-team Madras Invite.
"These girls listen and are all very coachable," Uhler said of her team, which is led by sophomores Janne Lucas and Jenna Fisher, freshman Melissa Kauffman, and senior Caitlin Becker.
"I think we will see tremendous improvements individually and as a team this year. But I may have to be more of a teacher than a coach this year."
Likewise, Hedges knows his team may need a little more guidance than last year's squad, which featured three seniors.
But, lucky for him, he has junior Alex Jimenez, who ran to a ninth-place finish out of 179 runners with a time of 17:26.
"Alex was right at the front of the pack the entire way," Hedges said. "A few guys broke away at the two-mile mark, but Alex did a great job of sticking with it."
Jimenez's performance earned him a medal, and demonstrated to Hedges just how strong the junior speedster could be in 2003.
"I was pleased, considering that it was our first taste of competition as a team," Hedges said. "We competed well, and we hope to capitalize on that at Wednesday's home meet."
The Skip Sparks Invitational will be held at HRVHS today at 4 p.m., with teams from The Dalles, Portland and Gresham making the trip.
Both the boys and girls teams hope to have as many as 15 runners competing, and the coaches are looking forward to it.
"It's nice to have our first race out of the way," Uhler said. "We have a sense of what we need to work on now, and when we do our next interval workout, the girls know what times they need to strive for."
Lucas led the way for the HRV girls at Madras, finishing in 45th place with a time of 25:06. She was followed by Kauffman (25:41, 50th), Fisher (26:10, 56th), Becker (26:30, 66th), Melissa Princehouse (27:42, 84th) and Christa Chandler (28:00, 85th).
Meanwhile, for the boys, senior Graham Hay finished second on the team with a time of 20:18, good for 59th overall. Junior Mat Foster took third with a 20:38 (67th), sophomore Kevin Dye was fourth at 21:00 (80th), freshman K.C. Christiansen was fifth at 21:54 (104th), and senior captain Brian Crosswhite was sixth at 22:11 (108th).
A handful of runners on both HRV teams did not compete because they do not yet have the minimum number of practices.
"We have a large group of girls who will be joining us for Skip Sparks," Uhler said. "So we haven't really seen our full team in action yet."
See the Sept. 13 edition for results from today's home meet.