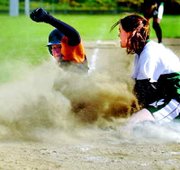 HOOD RIVER — One minute, you're down one. The next minute, you're tied.
And then, like something out of a bad horror film, you're down 5-1 with zero momentum.
That about sums up the Hood River Valley boys game Thursday with the league-favorite Redmond Panthers.
After falling behind 1-0 midway through the first half, the Eagles rebounded early in the second to tie the game on Jorge Hernandez's strike from seven feet out.
But the senior-laden Panthers kept their composure and scored two quick goals within minutes of the equalizer to reclaim control.
"I don't think the score was indicative of how we played," said third-year head coach Doug Beveridge, who, until Thursday, had not seen one of his teams give up more than three goals.
"Redmond is a strong, physical team that plays very well together. But if they are the best in our league, I would say we're right there," he said.
Beveridge pointed to the fact that Redmond only had five or six quality chances on goal, and had trouble building their offense in the midfield. The only problem was, any time Redmond got a chance, they scored.
"I can almost guarantee that won't be the case when we play them again," Beveridge said. "We just need to clear the dangerous balls out of the middle and be better in the air."
However, despite a few bad bounces, Beveridge said he was pleased with his team's overall defense, and praised the work of Sean Rawson, Alvaro Lara, Jesus Lara and Miguel Najera.
He also applauded the effort in the midfield, saying that Redmond was unable to set up any offensive sets.
"They just played a few long balls through, and had the speed to get to some of them," he said. "But it's not like we were getting beat all over the field. I think we learned some things, and it should be a different game when we play them down there."
The Eagles will face the Panthers again on Oct. 7, and if they can play their next six games the way they played the first 60 minutes on Thursday, Beveridge believes HRV will be battling for the league championship.
"We're down, but we're definitely not out," he said. "We are still gunnin' for the league championship, and that hasn't changed."
HRV's next two games are on the road at Bend (Tuesday) and Summit (Sept. 19). They then come home to face Hermiston on Sept. 23 before going on the road to Mountain View (Sept. 27) and Pendleton (Sept. 30).
Neither Beveridge nor the Eagles are looking past anyone in the IMC. But they also believe they are still one of the teams to beat.
"It's a pretty hollow feeling when you lose and the other team doesn't really beat you," Beveridge said of Thursday's meeting with Redmond.
"You're always down when you lose, but I think this loss will help us grow. It also helps us fly under the radar in the conference and in the state so we can sneak up on our competition as the season goes on."