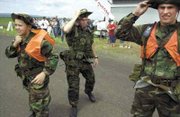 The popularity of outdoor weddings is attracting more brides and grooms to the scenic vistas offered in Hood River County each year.
But the romantic settings for nuptials found at rustic bed and breakfast establishments aren't being celebrated by some neighbors.
However, a complaint filed this summer by resident Marcus Cohn over traffic and noise at a Westcliff Drive B&B has raised an even greater issue. Under the county's land-use plan, weddings are not currently allowed to take place at these "mom and pop" businesses. Proponents of the wedding industry predict that the local economy will take a big hit if that code is enforced.
On Monday, the Hood River County Commission directed Mike Benedict, planning director, to draft language for a conditional use permit. They wanted that provision to address the issues of off-site parking and volume levels for amplified music and revelry. Benedict estimated it would take six months to complete that task and officials agreed that B&B owners should continue booking ceremonies for the time being.
"I think we'd be crazy to have our county, in the current dismal economic state it's in, walk away from these opportunities," said Commissioner Carol York, who advocated that a "win-win" solution needed to be found for all parties.
The elected body's move followed a briefing on the financial benefits of weddings that was delivered by Genevieve Scholl-Erdmann, public affairs officer for the Hood River County Chamber of Commerce. Scholl-Erdmann has been actively marketing the Gorge for nuptials because the average wedding party of 168 guests feeds more than $500,000 into the local economy with a three-night stay. In 2002, she said outdoor weddings comprised 15 percent of all bookings within the county and the average cost of the ceremony was $22,360. Scholl-Erdmann said many couples are seeking out Hood River from as far away as New York City and Boston.
"It's such a guaranteed return on our investment and from a business retention and expansion perspective it's a low-impact strategy that can help this county stay in business," said Scholl-Erdmann, tabulating that each wedding involves about 12 other local businesses.
Jackie Rice, co-owner of the Mt. Hood Bed and Breakfast, said she and her husband, Mike, will not be able to stay in business if they are prevented from hosting weddings. She said the income from about 25 marriages during the summer season offsets the slower winter months. The Rices contend that the closure of their business alone would bring a loss of $1 million to the county.
"I really believe in community-minded thinking and that's why I promote as many locals as I can — but we will not be able to financially stay here if we can't do weddings," Jackie said.
Wedding consultant Leith Gaines said it takes the combined effort of many businesses to put together a great ceremony. She said any single loss in that network will have a negative ripple effect throughout the industry. Gaines regularly hires numerous other enterprises to coordinate an event, including florists, photographers, caterers, limousine and bus companies, beauty shop operators, port-a-potty providers, decoration and dishware rental centers, and musicians. In addition, Gaines provides as part of her "I Do Weddings and Special Event Planning" services a listing of area restaurants and recreational opportunities.
"It's challenging to make a living here so this is another way for many people to augment their daily jobs," said Gaines. "People are going to spend money on weddings so it's an industry that's recession-proof."
Gaines and the Rices agree that parking needs to be regulated and B&B owners need to turn down the noise at night — particularly in residential areas. But they also believe any issues that arise can be resolved satisfactorily by good communication between neighbors.
"The reason that many people live out here is that they don't want to look at cars and hear noise, but people also need to be able to earn a living," Gaines said.
Cohn has initiated a discussion with Allyson Pate, the owner of Lake Side B&B, to work out his concerns. He wants music from the wedding and reception to be set at a volume that cannot be heard from inside his home, which is located about one-fourth of a mile away. He also contends that vehicles should not be parked to line both roadway shoulders so that only a narrow passage is available to other motorists.
"It's an easy overarching position that the integrity of a neighborhood should be at the top of the priority list, anything else should be secondary," Cohn said.
Pate was out of town and unable to be reached for comment.
Cohn is also concerned about two safety and health issues. He would like the county to address the liability issue if B&B owners serve guests alcohol and then an intoxicated individual gets behind the wheel and into an accident. In addition, Cohn would like to know if it overtaxes septic systems at these facilities when they are used by dozens of additional people on a regular basis.
"I'm hopeful that there's a balance the county can reach to allow these activities but to control them," he said.
The county board plans to form an advisory committee to help Benedict define issues and pro-active solutions that can be incorporated into the conditional use permit text.