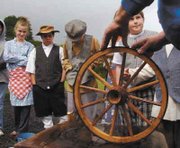 Parts of Hood River County history are in Portland for a unique new state-wide exhibit.
The Hood River County Historical Museum has donated five items to the Oregon Historical Society's "Oregon History: A-Z" Exhibit, which runs Sept. 20 to July 2004.
Sixty-three institutions, members of the Oregon Museums Association and OHS Affiliates, from around the state responded to the Society's request to lend objects to "A-Z," which exhibits over 400 objects that document how Oregonians live.
For the week of Sept. 20 to 28 admission to the exhibit is free. After that date the cost will be $6 for adults, $5 for students and senior citizens and $3 for ages six to 18, with children under six entering for free.
Hood River County Historical Museum contributed these objects:
* A bottle used in the christening of the S.S. Hood River in 1944;
* A ballot box donated by the Pine Grove Grange #356, used for recall ballots;
* A wooden apple crate from AGA (Apple Growers Association);
* One pickers' cabin stove, used for heating and cooking in pickers cabins. (Provided by the orchardists, the stove dates back to the late 1930s. AGA purchased a railroad car of stoves and then sold them to individual orchard owners.)
* The Hood River Laundry delivery sleigh from 1910, used with wheels except in the winter when runners were attached due to the snow. The sleigh was pulled by a team of white horses named Tom and Jerry.
Oregon History A to Z will give museum goers some insight into how to read an artifact, and how to interpret what artifacts can tell us about the past. Marsha Matthews, OHS director of artifact collections, said that from simple observations — what is it, who made it, what is it made of, how was it used, how old is it, where did it come from — a visitor can "progress to more hidden aspects of material culture," such as evaluating objects and comparing them with others, defining the relationship of an object. A myriad of elements has to be in motion for objects to be used and useful. A simple object such as a milk bottle can lead you not only to the history of the dairy industry in Oregon and the histories of specific dairies, but also to the interconnected histories of technology, recycling, political and health movements.