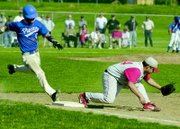 The Hood River Valley volleyball team had an up-and-down couple of days last weekend, dropping their first two league matches on Friday before winning their first match of the season at Saturday's Southridge Invitational.
HRV overcame a rocky start Saturday to defeat David Douglas in straight sets (25-18, 25-23). Then, after tasting victory, the Eagles went on to defeat McMinnville, 25-23, to take fifth place at the eight-team meet in Beaverton.
"It just started to click," coach Jen Baklenko said. "It was great to see us come back to win a few games after a difficult start. And now, the girls know they can win."
HRV had lost to McMinnville earlier in the tournament by scores of 25-16 and 25-16. But that didn't faze the Eagles, who adjusted their lineup and brought their best effort of the tournament — if not the season — against the Grizzlies.
"We really didn't play McMinnville that well in pool play," Baklenko said. "After we beat David Douglas, I think the girls figured out how to be more steady.
"That, and they stopped thinking about losing, which also helped them settle down a bit."
The two wins at Southridge helped HRV make up for a disappointing yet educational Friday homestand against two Intermountain Conference opponents.
Summit was first on the slate, taking advantage of numerous HRV miscues to win the match 25-19, 25-14, 25-14.
However, despite the setback, the Eagles' net play showed improvement against the Storm, with juniors Kara Graves and Katie Pritchett hammering home numerous key net points.
Sophomore Jamie Abbott and senior Jessica Young were also effective at the net, while junior Meghan Flink and senior Danielle Bohn provided additional stability in the backcourt.
"Katie and Kara are our two strongest hitters, and they will be very good as the season progresses. But, like everyone, they have a lot to work on."
In Friday's nightcap, HRV put forth a spirited effort against one of the IMC's top teams, Mountain View, which is ranked 11th in the current Class 4A state poll.
The Eagles nearly came away with the second game, but the Cougars withstood the rally and pulled out a 25-17, 25-23, 25-19 win.
"Mountain View is supposed to be a lot better than Summit, but I thought we played them a lot tougher," Baklenko said. "I think we are starting to realize what it takes to compete for every point, and if a team has that mentality, it has the potential to overachieve."
But none of what Baklenko has seen in the first two weeks has been overachieving. What she has seen from her players over the first few matches is that they are starting to develop a team synergy, as well as a strategy.
Baklenko has moved the team's best athlete, Flink, into the full-time setter role, and has allowed players like Abbott, Young and Chelsea Elliott to try new positions.
"We're coming together," Baklenko said. "I see a lot of potential. Now we just have to work harder."