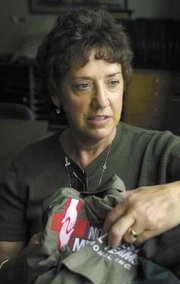 BEND — The Hood River Valley boys soccer team needed to beat Summit last Friday for a number of reasons.
First, Summit is one of the teams battling HRV for the four league playoff spots. Second, the Eagles wanted to put together their first win streak of the season. And third, they wanted a shot of confidence as they prepared for Hermiston and Mountain View this week.
As luck would have it, all three of HRV's pregame wishes came true as they escaped with a 3-2 win over the Storm, and moved comfortably into second place in the Intermountain Conference.
Senior Alex Ponce scored two more goals to give him a team-high seven in four games, while teammate Jorge Hernandez netted his fourth of the young season.
"The last two wins have pumped us up a lot," said senior forward Jake Pruitt. "Now, if we can beat Hermiston and Mountain View, we will establish ourselves as one of the top two teams in the league."
But most of all, Pruitt and the Eagles want another shot at Redmond, who beat them 5-1 at home on Sept. 11.
The Panthers are currently 4-0 in the IMC, and are ranked No. 5 in the most recent Class 4A state poll. They are also the defending league champs, loaded with senior leaders and confidence.
However, none of that fazes the Eagles, who are looking to get even in the Oct. 7 rematch.
"We're gunning for first in our league," Pruitt said. "We all think we can get them down there, and after beating a good team like Summit, it only makes us want to keep getting better."
Also having big games Friday for HRV were goalkeeper Julio Loza, outside defender Miguel Najera, and sweeper Sean Rawson.
"The defense has really answered the bell after the Redmond loss," coach Doug Beveridge said. "We're coming around on defense and we're starting to finish our chances better on offense. We have all the qualities to be a winning team, and I hope we continue to improve this week."
For a wrap-up of Tuesday's game with Hermiston, see the Sept. 27 edition.