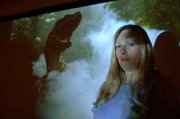 HOOD RIVER — Coach Sue Farro and the Hood River Valley girls soccer team are more than a little familiar with ties.
After all, last year's undefeated league run included five of them.
But last Friday's 0-0 tie with Summit didn't leave the same sour taste as the five draws from the 2002 campaign.
Coming off two straight losses, the Eagles needed at least one point in the standings. And, while three points would have been a little nicer, HRV still played its best game of the young season to move to 1-2-1 in the Intermountain Conference.
"We played a lot smarter on defense and didn't have nearly as many breakdowns as the past couple games," said senior midfielder Lisa Tedford, who returned to sweeper for the injured Jessica Ostler.
Junior Emily Sager and sophomore Kelly Durkan also had standout games on defense, while sophomore keeper Rose Brunk came up with a number of key saves late in the game.
"We stayed together and our touches were a lot better than the previous two games," Tedford said. "It was a huge improvement over the Bend game, and it really boosted our confidence to play so well against a team like Summit."
Although Tedford and Eagles were happy to break their two-game losing streak, they would have been much happier with a win.
The first half provided HRV with a bevy of scoring opportunities, as they controlled the midfield and peppered the Storm goal with shot after shot.
Seniors Anna Hidle and Acer Lopez worked the ball around with freshman Justine Bryant, creating chances upon chances for the Eagles.
But no shots found the back of the net, and the Eagles were forced to play stingy defense the rest of the way after Summit woke up from its road-trip slumber.
"They were a really good team," Tedford said. "But we were right there. It will be a battle when we play them again."
HRV traveled to Hermiston Tuesday (results not available at press time) and will host Mountain View on Saturday at 1 p.m.