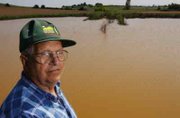 HOOD RIVER — The Hood River Valley Eagles made a statement to the rest of the Intermountain Conference last Friday.
A gargantuan offensive and defensive statement that sent shockwaves through the league, regarded by many as the most balanced it has been in years.
However, that observation shifted literally overnight as the Eagles amassed a season-high 571 yards on the way to a 63-12 defeat of the Summit Storm at Henderson Stadium.
"If we keep running the ball like this, we're going to go real, real far," said senior Rocky Level, who scored five rushing touchdowns and posted 236 yards on 17 attempts — an average of 14.3 yards per carry.
"Our offensive line is so dominant right now. They were literally running through the other team's linemen and kicking them aside like rag dolls," he said.
With fellow preseason favorite Crook County falling to Bend, and 2002 league champion Hermiston losing to Redmond, the Eagles have suddenly surged to the front of the pack after one week of IMC play.
And while no one can predict what will happen over the next six weeks, the Eagles (3-0, 1-0 IMC) have sent a message to the rest of the league: We can still score, and this year, we can stop you as well.
"We haven't had a defense like this in a long time," said junior guard/linebacker Luke McCarthy, who led the Eagles with 12 tackles. "Who knows how far it can take us? But if we keep being physical and using our speed, we have the potential to be really good."
Summit, which entered the game with the No. 5 offense in the IMC, was unable to score a single point against the Eagles' revamped defense. HRV recorded four takeaways on the way to posting a 63-0 lead, and didn't give up a score until the JV defense took over.
Meanwhile, Level added to his career night by running back a first-half fumble 76 yards for his sixth touchdown of the game.
"The biggest stat for us is the zero," Level said. "Tough defense all the way is our motto this year. And if our offense can keep doing this, we could be scary."
Level praised the work of the offensive line, and described their play Friday as being "exactly how it's supposed to look on paper."
Zach Royall, Alex Dominguez, Jason DeHart, Heath Goin, Jorge Lujano and McCarthy manhandled the Storm front seven, forcing them into submission by the end of the first half.
HRV led 13-0 after the first quarter on scores from Level and Nigel Bond. But they really turned it on in the second quarter, posting three touchdowns and two 2-point conversions for a 36-0 lead.
Highlighted by Level's 76-yard run back — which halted a long Summit drive that reached the HRV 17 yard line — the second quarter solidified the Eagles' best half of the season.
Senior Kyle Maurer recorded an interception, a touchdown and a two-point conversion in the quarter, while Level punched in his third touchdown with 2:10 left in the half.
But Level wasn't the only HRV running back to post a career night. Junior Adam Brown and sophomore Obed Bello also ran wild for the Eagles, picking up 94 yards and 87 yards, respectively.
Maurer finished the night with 59 yards on nine carries, while Bond totaled 24 yards on six carries. Senior Danny Newton ran twice for 14 yards and senior Alejandro Lozano ran once for 38 yards.
"The line is so in sync with the running backs right now, it's ridiculous," Level said. "It's like we know where they're going to be on every run, and they know where we're going to be."
Despite posting a five-touchdown lead at half, HRV didn't let up in the third quarter, scoring three more times — all three by Level.
The combined effect dented Summit's confidence, but the back-breaker came at the 6-minute mark when Level broke off a 60-yarder to put him over 200 yards.
And he was right back in the endzone just two minutes later after a 24-yard Summit punt on the ensuing possession.
At 50-0, all Summit could do was hope the misery would end soon. But, alas, it got worse.
Junior linebacker Casey Vannet recorded his second interception of the season at the end of the quarter, setting up Level's sixth touchdown of the night. Bello then scored early in the fourth on a 40-yard scramble, giving HRV a 63-0 lead and plenty of momentum for this week's home matchup with Hermiston.