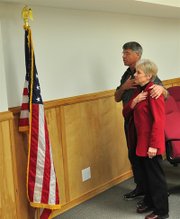 With time running out on Barbara Briggs and Chuck Thomsen's time on the County Commission, their fellow commissioners could not resist getting in a few cracks at their expense at Monday's meeting.
The final meeting of the year was the last one for Briggs, who is stepping down to spend more time with family, and Thomsen, who was elected to the state senate in November.
First came one zinger to a presenter not to waste paper printing out reports for Thomsen and Briggs because they wouldn't be reading it.
Then when board chair Ron Rivers mentioned that he was impressed with the fact there had already been five applicants to replace Briggs, there was mention that it was probably because they thought the job was easy.
Her fellow members were only kidding; in fact they have spent chunks of their past several meetings wondering how they were going to find someone to fill her shoes.
"I have a hard time saying no," Briggs said with a laugh Wednesday when asked how she got involved with so many committees and organizations while on the commission.
Briggs served one term on the commission, and it was a term that proved tumultuous with the county having to make steep budget cuts, which included seeing the library system close for a large portion of 2010.
Both Briggs and Thomsen have extensive business backgrounds, with Briggs running a consulting and planning service and Thomsen a local orchardist.
Although both are moving on to new pursuits, neither is moving on full-time from Hood River County.
Briggs and her husband Don will be spending winters in Arizona, but will be back in Hood River in spring. Even then, the county government won't let her get away completely. She is returning in January to facilitate the commission's 2011 goals session.
Meanwhile Hood River County is part of Thomsen's jurisdiction as the newly elected District 26 senator.
Thomsen will be spending weekends at home in Hood River while spending weekdays from January to June in Salem.
"It's almost a full-time job if you want to do it right," Thomsen said.
Thomsen said that if 16 years on the county commission and more than that running a business didn't prepare him for spots on the Senate Environment and Natural Resources and Ways and Means Committees, "nothing will."
Before she became a commissioner Briggs was involved in numerous local organizations, including United Way, when she was elected to the commission her responsibilities increased further, including an appointment as the Oregon Association of Counties second vice president. That would have likely meant a term as the Association's president in the near future, and another increase in responsibilities.
That led Briggs to reach the decision that it was time to step aside.
"Unfortunately I made the decision too late to get my name off the ballot," she said.
She said that it was clear she needs the time to focus on family and her business. Her latest grandchild, born to her daughter who lives in Vancouver, British Columbia, was born with a heart defect; and she also wanted to be able to focus on her business without having to deal without potential conflicts of interest.
Both Briggs and Thomsen were proud of the work the commission has done in trimming the county budget in recent years but still providing essential services.
That included seeing the library close. The library will open again next year operating outside of the county of the budget.
"It was a painful decision but the right one," Briggs said.
Both feel that public service is in their blood, and that is a calling that will likely never leave.
"I've always had a personal mandate to do public service," Briggs said.
"I've always had the desire to give back the community," Thompson said. "I've got a great profession as a pear grower - you work hard but it gives you time to do that."
And while one steps away from government and another steps into a new form of it, both say they will still be familiar faces in the county.
"You learn a lot about that through the campaigns," Thompson said of getting out and seeing his constituents. "And I'll continue to do that while I'm in session."
And while Briggs is stepping away for now, she's not ruling out a return, especially if she can't shake the urge to stay involved.
"I'm going to miss it a lot," she said. "I may be back around - who knows?"