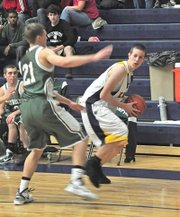 This time no rally was coming; no chance to get back in the game.
The Reynolds Raiders withstood everything the Hood River Valley boys basketball team could throw at it Tuesday night and dominated the Eagles to close out the game and win 62-40 at Vannet Court.
The Raiders never let the Eagles get within single digits after the opening moments of the game and matched HRV shot-for-shot in a flurry of scoring to start the second quarter.
The only time the Eagles got close was at the start of the third quarter when Justin Schultz hit a pair of three-pointers and blocked a Reynolds lay-up attempt. That sparked a 10-2 HRV run that saw HRV get within 42-30.
That would be as close as HRV got, though, as Reynolds then when on a 9-0 run to retake complete command of the game.
Chris Dirks was the only Eagle in double figures with 14 points, while Justin Schultz added nine and Torey Schmidt eight for HRV.
The Eagles play at the Silverton Classic Tuesday and Wednesday before opening league play at Hermiston Jan. 7.
At St. Helens Tuesday night the HRV girls bounced back from two losses at a tournament in Forest Grove to dominate the Lions 59-21.
The Eagles piled on the Lions in the second half, scoring 40 points to 13 by St. Helens.
Angie Titus scored 15 points to lead HRV while Jaci Bryant had 10 and Brielle Perron added nine. Titus also had six steals.
The HRV girls JV team beat St. Helens 53-29 with 10 points from Natalia Ames and seven from Amanda McCafferty.
HRV plays at the Gresham Holiday Tournament Monday through Wednesday.