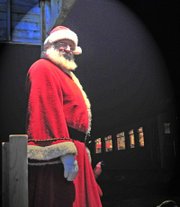 It wasn't so long ago that Santa Claus was a fairly rare sight during the Christmas season. It seems impossible to imagine given the thousands of Santa faces we see on every screen, product or street corner these days.
"I remember when I first started giving gifts to children. I was visiting just a few families in a small town in Myra (Turkey)," Santa said. "I saw they were in need and my faith taught me to help them."
Things have changed quite a bit since Santa's reputation and gift program went international.
In fact, Santa used to be more of a sidekick to the main event - just a kindly, faithful gentleman who helped children embrace good behaviors and ideals in exchange for a small gift.
But even in his minor role, Santa's annual giveaway has always had a bigger purpose in mind.
"You might say I give gifts to those who are still too young to understand the importance of being good for the sake of being good. Until they have time to grow up, they don't yet know that love, caring, responsible action and kindness are their own reward."
In his benevolence, Santa has sometimes been viewed as "an easy grader" - a generous stand-in for a more challenging teacher who often comes to people later in life and expects a lot more.
"I think being charitable with someone when they are young is a good way to prepare them for the hard solo work ahead," Santa said in his own defense.
Santa does worry that the lessons about compassion and forgiveness that he learned (encouraging him to begin his life of giving) seem to be getting talked about less and less during the holiday season.
In fact, with all the exposure, Santa's easy reward system for children seems to have taken top billing - moved to the upper rung of the holiday lesson ladder, so to speak.
"It almost seems like I've become the destination resort for some, instead of one of the many helpful conductors on the train," joked Santa, in his usual jolly manner.
Some people worry about this a lot. They worry that Santa is being used to teach the wrong lessons.
"I don't really worry about whether people see me as a distraction, the latest American Idol, or a simple, foolish idea. I try to stay focused on bringing a little joy to the children.
"I know some folks understand my message, though. I can look around and see all of my Santa-helpers (those guys that dress like me) and see how they have opened their hearts for the children.
"Of course I have no way to stop other people from adding my name or photo to their Christmas advertising. This is a free market economy, after all," noted Santa with a rueful smile.
"I just hope the kids don't worry about that too much. I'm all about giving and that can happen without any money being spent at all. Look at how much a beautiful poem or hand-drawn picture can mean, if it's given with love."
When asked what he hopes for the future, Santa patted his mighty belly with eyes twinkling and said, "I just hope to make a few people's lives a little happier so that they might spread that happiness to someone else. You know - pay it forward."
With just a small self-effacing head nod, Santa spoke out on behalf of his critics' concerns.
"I'm really okay with whatever people believe about me for two reasons: I genuinely believe that people are mostly good, and I'm sure of my good intentions.
"Well, even if people think I'm a little outdated or if they completely disagree with the faith that got me started on my path, I have one consistent reply: Wouldn't this be a better world if everyone spread a little more happiness around?"
Closing with his trademark wink and a challenge to us all, Santa added, "And maybe a few more hearty laughs now and then would do us all a bit of good!"