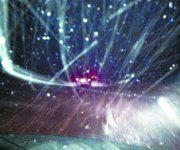 Two people were injured in a seven-vehicle wreck Sunday on an icy Highway 35 near Mt. Hood Meadows that closed the highway for three hours in both directions.
The 3:43 p.m. wreck involved several cars that had stopped to chain up, and a State of Oregon truck fully loaded with road sand.
Windy, low-visibility conditions contributed to what was essentially three collisions that compiled a tangle of crunched metal across both lanes.
According to an Oregon State Police report, the incident at milepost 62 began when two northbound vehicles had stopped and were chaining up at a point where the roadway slopes east, at a point ODOT workers call "Okie's Corner," just under a mile north of the Meadows entrance.
"If the person hadn't been stopped in the middle of the road and causing congestion we probably wouldn't have been in this situation," said Ed Joseph, coordinator at the ODOT Parkdale division.
A 2006 Toyota Tundra driven by Mark Ruenbuehler of Salem slid into a 2003 Ford Focus, which knocked the car into a 1997 Subaru Legacy. All passengers of the Focus and Legacy were out of the car at the time. After the Focus was hit, it slid backwards, causing two of its occupants to jump into a snowbank.
The Focus driver, Ryan Kunes of Eagle Rim, Ark., was hit by his car in the knee, causing an apparent fracture.
Kunes' passenger, Kristy Huffman, was briefly pinned under the vehicle but the two other passengers were able to pull her out. Kunes and Huffman, who told medics she was in pain, were taken by Parkdale Fire ambulance to Providence Hood River Memorial Hospital.
Next, a Dodge Ram driven by Mason MacFarlane of Vancouver was traveling northbound at the scene when he swerved to avoid hitting a 2002 Toyota Sequoia driven by Nathaniel Thompson of Portland, who had two passengers. Thompson slowed down and slid, hitting MacFarlane's front bumper and then sliding into Reuenbuehler's Tundra.
MacFarlane reportedly tried to back up and then slid broadside in the roadway, blocking the northbound lane.
At that point, driver Douglas Sharkey in the ODOT sand truck saw the crash and slowed, but slid sideways into McConley's Legacy, pinning the vehicle against the guardrails. McConley, who was bruised, and his two passengers dove over a snow bank to escape getting hit by the truck.
Then, a 2010 Subaru Outback driven by Daniel Harro of Portland and a 2006 Nissan Murano driven by Kristine Rebber, Portland, slid sideways into the sand truck, which had minor damage.
Joseph said his fleet of six trucks is involved in "two or three" wrecks each year.
"Considering that we run three shifts, on 210 miles of highway, it's a little surprising it doesn't happen more often," Joseph said.