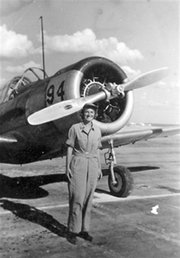 I had my first experience in a small aircraft in my early 20s, and I was over the moon with excitement. When I told my grandma all about it, she said, "Maybe you'll be a pilot like your mother." I had no idea what she was talking about, and she couldn't believe Mom had never told me.
That was the day I learned that my mother, Eileen Roach Kesti, had been one of the Women Airforce Service Pilots, or WASPs, of World War II. She and 1,073 others with the same spirit and courage trained, as civilians, on every size military aircraft of the day in order to take care of domestic military flying business, releasing male pilots for overseas combat.
Why had Mom never said anything? Several reasons: She had never been one to sound her own horn and really didn't feel that she deserved any special credit; but mainly, it was probably the happiest time of her life and she missed it terribly, and felt bad about the way it ended. (After her graduation and a year or so of service, the WASPs were told, in so many words, that they were "no longer needed," since male pilots were beginning to return from the war, and if they continued in service, they would be "replacing instead of releasing our young men.")
The WASPs were honored last week in a ceremony in Washington, D.C., where they were awarded the Congressional Gold Medal. About 200 of the approximately 300 still living attended, many in their WASP uniforms, as well as their families and family representatives of those WASPs who couldn't travel or who were deceased.
I was fortunate enough to be among those representatives, along with two sisters and a nephew. Though Mom didn't live to see it, we felt her presence as the guest speakers took turns saying things we know she would have loved to hear.
The awarding of the Congressional Gold Medal, the highest honor Congress can bestow on a civilian, is meant as a belated thank-you and as validation of the courageous and pioneering spirit the WASPs showed during wartime.
"This honor is much deserved and long overdue," said Rep. Susan Davis, of California, one of the elected officials credited with helping the bill to pass through the House and one of the guest speakers. "Today, your day of honor is an opportunity to thank you for your fearless, selfless service. Your strength and your spunk, your unprecedented moxie, is an inspiration. Servicewomen today stand on your shoulders, perhaps unknowingly."
Sen. Kay Bailey Hutchison, of Texas, who co-authored the legislation with Sen. Barbara Mikulski, of Maryland, said, "By the time the war ended, 1,074 women had earned their wings at Avenger Field in Sweetwater, Texas; 38 were killed in action. Throughout the war, these courageous women flew over 60 million miles … in every type of aircraft and on every type of mission flown by male pilots except direct combat missions.
"They were never commissioned, were never afforded active military duty status, were not granted veterans status until 1977," she continued. "These women volunteered to serve our country in wartime. They paid their own way to Texas for training, and when the program ended, they paid their own way back home. And those who were killed in action were buried by their families, often with contributions taken up by the women of the WASP."
Hutchison said the legislation to award the Congressional Gold Medal to the WASPs passed both Senate and House in record time for a gold medal resolution, and she thanked her colleagues, "who responded with incredible enthusiasm.
"But most of all, I want to thank the WASP, and their families, all who are here today, who have waited so long, and traveled so far, to hear these words: On behalf of a grateful nation, thank you for your service."
Sen. Barbara Mikulski told the WASPs, "You also flew in the face of gender bigotry; even gender hostility … And today, because of your valor, your trail blazing, women are serving in the Air Force, in the military: fighter pilots, astronauts, helicopters, search and rescue pilots — you really created this opportunity."
Most of the WASPs were just grateful for the chance to fly, as another of the speakers observed: Lt. Col. Nicole Malachowski said, "If you spend any time at all talking to these wonderful women, you'll notice how humble and gracious and selfless they all are. Their motive for wanting to fly airplanes all those years ago wasn't for fame or glory or recognition. They simply had a passion to take what gifts they had and to use them to help defend not just America, but the entire free world from tyranny.
"Another thing you might notice," she said, "is that despite the incredible barriers that were placed in their paths, they speak nothing but positive about their experiences. They have always focused on their opportunity to fly; the privilege of serving their country, and the importance of the mission they set out and accomplished."
At the very beginning of my flight to Washington, D.C., I found myself staring out the window and imagining myself in my mom's place all those years ago, and really felt her loss when it was all over. During the flight I read a book by one of the WASPs, Marion Stegeman Hodgson, whose words could have come from my mother, during the few times she spoke of her flying days.
"The gods must envy me!" Hodgson wrote in a letter to her mother. "This is just too, too to be true! … Oh, God, how I love it! Honestly, Mother, you haven't lived until you get way up there –– all alone –– just you and that big, beautiful plane humming under your control."
A few pages later, she talked of trying to console a fellow trainee who had just "washed out" and would be sent home: "Could we go back?" she wondered. "Would there be enough waiting for us as mere women, after we'd owned a piece of the sky?"
The gender bigotry and hostility that Mikulski mentioned was evident in Hodgson's book, as well as in some letters my mom left behind:
"The instructors are so cranky," Mom wrote. "They think we're just here for the glamour of it. Heavens! We're about the most unglamorous females to be found anywhere. Anyhow, they just want to see how much we can take. I've held up so far thru some very stormy barrages thru the earphones from my instructor. I'll be darned if I'll let him know he gets under my skin with his insulting tone and remarks. But it does affect my flying and I'm not nearly as able as I was.
"But I got a civilian check and my instructor says 'Oh, you're doing all right' to me on the ground after telling me how dumb I was for the whole period. But I'm determined."
That determination got my mother and the rest of the WASPs through the experience, as well as the let-down afterward, and it was rewarding to see them finally given their due.