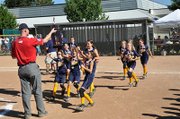 The Hood River 9-10 All-Stars softball team took second place at the state tournament in Hood River this week.
After losing its first round game 14-0 to Milton-Freewater, Hood River blasted its way to the finals beating Parish Pioneer 11-1, Hollywood/Lakeside Rose City 8-2, Portland 12-1 and then crushing Forest Grove 18-1 in four innings in the semifinals.
That gave them a rematch with Milton-Freewater, who scratched out a 3-1 win to take the championship.