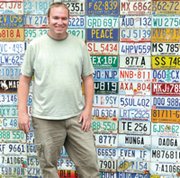 It's summer, and that means it's barbecue season.
When most people think barbecue, they think of places like Tennessee, Missouri and Texas.
Oregon rarely cracks the list, and to Justin White, that's a shame.
"Oregon isn't known for its barbecue and that's too bad because we have some great wood," White said.
White, who runs the Apple Valley Country Store, spent several years as a chef before coming home to take over the family business in 2006.
The next year he introduced barbecue to the store. On special-event weekends throughout the summer, the popularity of the barbecue is clearly evident, with the front yard spilling over with people whose faces are smeared with sauce.
White smokes all the meat used for Apple Valley barbecues with local apple and cherry woods, and the sauce is made with a local apple cider base.
Eight weekends a year the store cranks out hundreds of servings of pulled pork, ribs and pear coleslaw.
"Of all things we do at the store, the barbecue is the most popular," White said.
White arrived in Hood River as a freshman in high school, and while his dad ran the store, Justin wanted nothing to do with the family business.
After he went off to college, he began working as a chef to put himself through school, and eventually found his side job turning into a passion.
After college he worked at Cooper Spur resort and then spent several years working in Key West.
Then he came back to help out at the store for awhile.
"I told my dad I would help him out for a bit and then things sort of just fell into place," White said.
Soon enough he was running the place, and says he couldn't see things any other way.
"I love working for myself," he said.
The biggest change he introduced to the store when he took over in 2006 was the barbecue.
A few times before, the Spooner family ran barbecue events at the store, but was looking to get out. So they sold White the equipment and gave a crash course in barbecue 101.
He also received training from barbecue guru John Willingham and set out to develop a good sauce.
White spent several years "constantly tweaking" the regular and spicy sauce varieties at Apple Valley. His preference is spicy because he likes the way it complements the sweet flavor of the fruitwood-smoked meat.
He's also a fan of the store's huckleberry pies and milkshakes, and thinks that they go perfectly with the barbecue items.
Apparently, so does everybody else.
"On hot days they just sell one after another," he said.
Given the option between the pulled pork and the St. Louis-style ribs that Apple Valley churns out, he prefers the ribs, but says that around 90 percent of the customers ordered the pulled pork.
Either way he says they can't really go wrong. The process starts with the meat being seasoned with a light rub, and then put in the smoker.
"Most places smoke it until it has a black crust on it but I do it until it's more of a reddish burgundy," he said. The unfinished meat is then cooked in an oven. This allows them to keep up a high volume of meat going through the smoker.
For a weekend event, the meat smoking typically starts on a Thursday so they can have enough ready to go for a big weekend.
White is excited to see what new directions the barbecue takes the store, but says that while they do catering, they do not intend to expand their current operations anytime soon.
"We are kind of at capacity here," he said.
The 35-year-old and single White also loves that the store continues to remain in the family. He took over the store because his father was looking to get out and didn't know if he should sell it. White never wants to have to reach that stage.
"I have an 11-year-old niece," he said. "And if I have my way she'll take over when she graduates from college."
For as long as he can, though, White intends to keep cooking the barbecue that he loves.
"I don't think I'm going anywhere," he said.