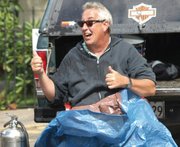 His daughter, Kelli, and niece, Michele Johnson, annually ambush him with water soakers as they ride through the parade on a flatbed truck. This year Bell was equipped with a tarp, for protection, and an antique fire extinguisher (water-filled) which pumps up with air pressure.
This time, it was the girls who got soaked.
Earlier that day Bell had marched in the Hood River parade with other staffers from The Next Door Inc., where he works as a van driver and teaching assistant for Klahre House. Fittingly, he carried a drum.
"I've played the drums forever," he said. "I played in high school, and I've played in bands; and now I'm playing in wineries a little bit, with some guys." He has also drummed in the live band accompanying the high school musicals for the last six years, as well as CAST productions requiring live music.
Lately he's been playing a wooden box drum called a cajon; an Afro-Peruvian instrument played by slapping the front face with the hands.
Besides drumming, Bell's other passion is motorcycling — he and his wife, Sue, who only recently received her motorcycle endorsement, took their first real road trip together in June, riding their Harleys to Goldendale.
"It was a blast even though we camped the first night in a pouring rain storm," Bell said. "(The event) had really good bands and we danced like we were young two nights in a row. Even when her bike broke down, a guy from Goldendale hauled it home for us. All in all a great trip."
Randy and Sue have known each other since kindergarten, and have been together for more than 30 years. Besides daughter Kelli, the couple has a son, Andy, 21.
Bell has worked for Klahre House of The Next Door for the past six years. He was honored last year as employee of the month, and described as a hugely valuable member of the Klahre team.
"Randy is a hard worker and is able to wear many hats at Klahre House," Jody O'Connor wrote in his employee of the month biography. "He drives the youth to and from Klahre House and field trips, does maintenance, teaches life skills classes and takes youth to AA meetings.
"Randy regularly supervises bowling, games and lunches. He is well-connected with the Gorge community and has helped arrange field trips to local organizations, contacted valuable guest speakers and arranged for meeting spaces for Boys Group, recreation and sports, etc."
Bell is indeed well-connected with the Gorge community, and volunteers for any number of events, especially those with broadcasted music such as the Ring Kings car shows. He is a board member at the Hood River Valley Adult Center and also belongs to the Elks and Eagles organizations. And don't tell the kids, but he just may be the one behind that Santa suit around Christmas time.