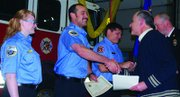 The last event in the Hood River fire hall was a first.
Family and friends attended Wednesday's swearing-in of 22 paid and volunteer firefighters.
"We've never done this before, and we hope to make it a regular event," said Chief Devon Wells, standing in front of the fire engine that would serve as a backdrop for the honors.
"We are proud to honor you and what you do," Wells said.
Mayor Arthur Babitz added, "Let's have a round of applause for the families, because this also recognizes the support they give our firefighters," after he performed the service oath ceremony.
(See the full list at the end of this story.)
"This is pretty special. It makes us feel wanted," said Recruit Rebecca Gehrman, who also volunteers with Odell Fire Department and plans a career in fire service. "It takes a lot of training and hard work to be a volunteer, but we really enjoy the things we get to do as firefighters, the training and the tasks. And I have really gotten a lot out of the people. I've met so many great people doing this."
The last of the 22 personnel to take the oath was Division Chief Peter Mackwell, who was recently appointed fire marshal.
"Peter has a big job ahead of him, doing inspection and fire code enforcement, given that we have not had a fire marshal position for several years," Wells said. Mackwell's position is funded by a two-year, $175,000 SAFER grant from the Federal Emergency Management Agency. SAFER stands for Staffing Adequate Fire and Emergency Response.
Within a few weeks, the fire hall will be emptied of the engines and other apparatus, the firefighting gear, and all equipment, to make way for the expansion of the facility, beginning later this month.
"We'll be moving to temporary quarters here in a couple of weeks, and while it won't be easy, we'll get through it," Wells said. "And by December we'll be moving back into a new fire station that will be a blessing for us and for the community."
The $4.5 million project is paid for by bonds approved by voters in 2008. Fire equipment will be stored in tents across the street from the fire hall, in the public works yard. Trailers will be set up at the location to serve as offices and on-duty crew quarters.
In addition to Mackwell, these volunteers and employees were sworn in:
2010-11 recruits: Bob Camillucci, Kevin Deutsche, Paul Doyle, Rebecca Gehrman, Alex Hauser, Garth Levin, Suzanne Lusk, Adam Mack and Gary Stallings
Current volunteers (2005-10): Will Atkinson, Michelle Beaman, Walter Burkhardt, Joe Correa, Ellen Dittebrandt, Brady Lane, Kip Miller and Vanessa VandenBos
Volunteer lieutenants: Trent Hightower and Nathan Smith
Engineer/paramedics: Anthony DePinto and Jay Geraci