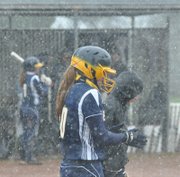 With snow fluttering through the sky around them, the Hood River Valley softball team kept warm the only way it could - running around the bases to score runs.
The Eagles beat Milwaukie 7-0 Wednesday afternoon in a game that was completed despite brutally bad weather throughout.
The Eagles scored four of their seven runs on wild pitches by Milwaukie pitcher Nicole Bugliari and scored two more on Mustang errors.
While Bugliari and her defense melted down in the cold weather, HRV pitcher Kayla Byers was cool and calm, striking out 17 Mustang hitters and limiting them to four hits.
The Mustangs got a leadoff double in the first but never again mounted a significant scoring threat as the weather worsened.
Byers finished the game just as strong as she started it, striking out the side in the seventh to seal the win.
After the game went through four and a half innings with HRV leading three to nothing, the umpires and coaches gathered near the pitcher's mound and decided to keep playing.
The Eagles could have perhaps used another snow flurry Thursday, when they lost 3-0 under clear skies to David Douglas.
Scots pitcher Jamie Martin kept the Eagles off-balance all day long with a devastating change-up.
"We just talked about rolling over and being early," HRV coach Eric Keller said after the game.
The Eagles were out in front of Martin's pitch for almost the entire game.
The Eagles struck out only three times but hit repeated soft ground balls, that either went right back to Martin or right to an infielder.
The Eagles did hit the ball hard several times, and had runners at the corners with two outs in the fourth and fifth innings but could not score.
"We've been talking as a coaching staff that we want to see some of the better teams in the state," Keller said. "We want to get the girls some experience in games like this. We got it today and now we just have to go out and apply the lessons we learned tomorrow."
The Eagles were traveling to Madras Friday for a doubleheader and open league play next Friday at Pendleton.