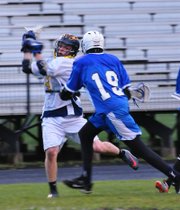 The Hood River Valley boys lacrosse team played in a pair of blowouts this week.
Unfortunately for the Eagles, only one of them was a win.
The Eagles lost to Oregon Episcopal 10-4 Tuesday but bounced back to top Grant 13-5 Thursday night.
Trailing by five goals at the half against OES Tuesday, the Eagle defense and goalkeeper Malcolm McCurdy combined to keep OES off the board for nearly the entire third quarter but the Eagles could not get any goals themselves.
The Aardvarks finally scored with 1:40 left in the quarter and eventually put the game away with a pair of goals in the fourth quarter.
"We played a better second half and that's been our pattern," HRV coach Mac Jackson said. "It was really a possession issue."
The Eagles took their frustrations out on Grant Thursday, hammering away at the Generals with goal after goal.
That included a pair of goals by Andrew Thompson in a 30-second span in the second half as the Eagles kept Grant from ever getting in the game.
"It gave us a chance to do some things offensively we can use down the road," Jackson said.
The Eagles wrap up the first half of their league schedule at Central Catholic Tuesday.