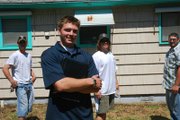 Jordan Bryant is 21 going on 70.
That is to say, 70 homes painted this summer.
Bryant, a 2008 Hood River Valley High School graduate, has gone from solo door knocking to hiring 24 paint crew members as he builds up his own business as an intern with College Paint Works.
"I cannot wait to see what I can do with this," said Bryant, who learned last fall of the opportunity with the College Works, one of the largest residential painting contractors in Washington state.
Turn to this month's Home and Garden special section for the full story of the successful summer for Jordan Bryant.
He is among the top 10 in sales for the nationwide company. By summer's end, he will have a company worth more than $100,000.
"I have learned so much, and started with zero dollars," he said
Bryant has developed 42 customers so far this year and figures to top out at 70 by the time he goes back to school at University of Oregon in late September.
Bryan is studying for a business degree, with a minor in human physiology.
"I'd love to get picked up by a company based on the performance show; I want to be in Forbes magazine one day," he said.
He said he was looking for a management position this summer, and when the College Works rep came to UO and told his math class about the opportunity to gain management, and leadership skills, "I thought, 'I could definitely do it,'" Bryant said. He did the initial interview, and then had to query former employees to make sure it was something he wanted to do.
Second and third interviews followed, and then a fourth interview with a company vice president "with more questions for about an hour, and then I got the job."
He had experience with business via his parents, Terry and Teri Bryant, who own Mid-Columbia Overhead Door, and he had worked building decks and other construction work, so he had a grounding in operating a business.
What he has found is that College Works has done even more for his social skills.
"I help people; I give them what they need. I sit down and talk to strangers all day, every day," he said. Most of the painting is done by his crews, but he visits each site to discuss each project's needs and particular requests from the client.
"I've always been involved in sports (including basketball and baseball at HRVHS) and always been independent and able to take clear instructions; and I was at the top of my class, academically," Bryant said.
"I also have a little sister (Jaci), and wanted to be someone she could look up to."