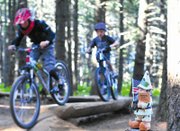 RaeLynn Ricarte was sitting at home on a Saturday morning, drinking her coffee and watching TV when a commercial came on featuring a globe-trotting gnome.
"I wonder if he's ever traveled to a combat zone," she mused.
Somehow from that slightly sarcastic thought sprang an idea for a project to lift the spirits of troops overseas by sending "combat gnomes" to 15 different bases and having a friendly competition to see who could get the most imaginative photographs of the gnomes in different situations.
Ricarte wanted to make the contest as challenging as possible, so she wrote up very official-sounding "Rules of Engagement" to send along with the gnomes, seeking advice from Sgt. First Class Alex Porter, of the Oregon National Guard Armory in The Dalles on the military specifics.
The deployed men and women took their orders and responded enthusiastically, sending photos of their gnomes in all kinds of situations. The Gorge Heroes Club, which Ricarte founded a few years ago, has been posting the photos on its website (gorgeheroesclub.blogspot.com), as promised.
"The original photo contest was won by a National Guard combat engineering unit in Afghanistan and we are getting ready to start another," Ricarte said.
Porter suggested they have a gnome working the home front, to help stir up some moral support to the troops by starting a letter-writing campaign. Ricarte and a Porter came up with a plan to involve the mayors of local cities in friendly competition, with hopes of expanding to the state level and eventually national, as well.
The Dalles Mayor Jim Wilcox was game, and for the last month has allowed the home front gnome, aptly named "Homey," to accompany him to meetings and public events - including the Fort Dalles Rodeo - for photo ops and to further the letter-writing campaign.
Last week the Oregonian carried a story on the combat gnomes, which went out on the Associated Press wire and was quickly picked up by Portland's KATU television station, which aired a segment during its July 26 evening news broadcast.
"Since then it's been crazy," Ricarte said. "We have received four requests from military families across the country for gnomes to be sent to their loved ones in Afghanistan. We also heard from a sailor off the coast of Somalia who wants a gnome for his ship.
"The news about what we are doing with Homey arrived in Iraq and Afghanistan shortly after the Oregonian story aired and they are expressing their support for our cause, and chuckling over the famous Homey," she said. "And that is an added bonus to this campaign."
Last week Mayor Wilcox passed the gnome off to Hood River Mayor Arthur Babitz, who has so far taken Homey mountain biking in Post Canyon, among other things. After a month he will pass the gnome off to Portland Mayor Sam Adams.
It's a fun project, but there's a serious side, Ricarte said.
"The gnomes are a fun way to boost troop morale and raise public awareness about the need to support the men and women that America has sent to war," she said. "But there is a serious undertone to this campaign.
"Right now there is a growing level of bitterness among the troops, after 10 years in combat, that they have been forgotten," Ricarte said.
"They really do need people to care right now, so this is our way of letting our heroes know that the folks back at home care about them."