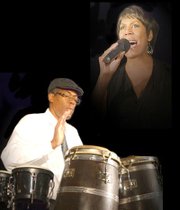 Bluegrass, Bootstraps at CG Hotel
The Columbia Gorge Hotel is hosting a "Bluegrass, Bootstraps, & Red Wine" concert on Monday, Sept. 5, from 11 a.m. to 6 p.m. Featured bands include the Fender Benders with Les Vaughn (11-1 p.m.) Special guests TBA (1-3 p.m.) and bluegrass band Laredo Drive (3-6 p.m.) Admission to this all-ages show is $5. Please bring chairs and blankets for this outdoor event.
Organic Sol at Stonehedge
Organic Sol is a popular Southern California duo serving up soulful blues, cool jazz and acoustic melodies. Their music is inspired by their love for romantic standards, jazz, bebop, funk, world, Latin and Brazilian music. The word "organic" means, "fundamental, back to the basics" and it describes this duo perfectly. The core of their remarkable sound is the basic purity and strength of Lynee's voice and Kamau's drums and acoustic guitar. The duo appears at Stonehedge Gardens on Saturday, Aug. 20, at 6:30 p.m. No cover charge.
Stingers at Naked Winery
This week at Naked Winery in Hood River: Friday: The fingerstyle guitar of Kit Garoutte (4-7 p.m.) and The Jim MacMillan Trio with a rock/folk set (7:30-10 p.m.) Saturday: Franco and the Stingers (7-10 p.m.) Franco's unique vocals and sweet harp playing really stand out as does the writing on their catchy tunes. Franco has represented the Cascade Blues Association in Memphis so you know he has the chops and the band is polished and entertaining. Sunday: Ben Bonham (5-7 p.m.) Country blues, ragtime, vintage swing and Hawaiian. Monday: Open mic (7-10 p.m.) Show off your chops every Monday and join the folks making live music happen in the Gorge. Tuesday: (6:30-8:30 p.m.) Jazz featuring Ryan Kolberg and Mike Stillman. Come dance with us!
Jack Brown plays Aug. 27
Jack Brown writes, sings and plays music that reflects everything from his New Orleans upbringing to his California stint and his current Idaho environs. He's played big gigs from the Rich Warren's Folkstage/Midnight Special (August 2010) to opening for Carole King (2004) and small gigs at coffeehouses, bars and pizza joints. Catch Jack Brown at Paul and Kristen's house concert series on Saturday, Aug. 27, at 7 p.m. 401 Montello, Hood River. Call 541-387-4011 for more information.
Tony Smiley at Thirsty Woman
One-man-band Tony Smiley will be at the Thirsty Woman Pub in Mosier on Saturday, Aug. 20, from 8 to 10 p.m. No cover charge and always a good time. Thirsty Woman Pub, 904 Second Ave., Mosier; 541-478-0199.
Cloverdayle at Smiley's Aug. 27
Country duo Cloverdayle (Chad and Rachel Hamar) and band performs live at Smiley's Red Barn on Aug. 27 at 7 p.m. Admission is $5, kids 12 and under are free. One of the Northwest's best country bands, Cloverdayle has played Nashville to Portland and they've worked with Jason Aldean, the Brooks & Dunn Band, Reba McEntire and Terry McBride. In 2010, Chad and Rachel recorded of a 4-song EP titled "The Young & Reckless EP." Food and beverage vendors will be on hand; bring chairs and blankets for seating.
Matt Brown at The Pines
If you missed Matt's last visit to The Pines, you really missed out! Sip a glass of wine as this local Portland singer/songwriter transports you with his smooth vocals and rich guitar sounds. Friday, Aug. 19, from 6:30-9:30 p.m. at The Pines in Hood River.
'127 Hours' screens Aug. 24
Please join Columbia Center for the Arts film series as it presents "127 Hours" on Wednesday, Aug. 24, at 7:30 p.m. This Oscar-nominated film from director Danny Boyle tells the harrowing tale of real-life mountain climber Aron Ralston (James Franco), who literally cuts himself loose from danger — and lives to tell about it when sliding rock pins his forearm under a boulder during a climb in Utah. To stay alive, Ralston resorts to his basest survival instincts. Rated: R. Runtime: 94 minutes Tickets are $5 at the door.
Entertainment listings can be e-mailed to jdrake@ hoodrivernews.com