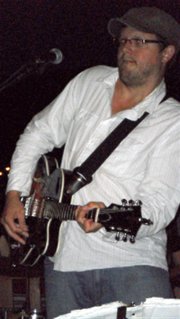 Tess Barr at Waucoma
The Tess Barr Blues Band is celebrating a debut at Hood River's Waucoma Club on Saturday, Aug. 27, starting at 9:30 p.m. Special guest blues veterans Bonnie Lee Bluestone on keyboards and Chris Raymond on saxophone will be joining the band so mark the date and bring your dancing shoes.
Open mic at White Buffalo
White Buffalo Wines hosts a music open mic jam outside on the patio Thursday, Aug. 25, starting at 6 p.m. Basel Cellars Winery will be on hand with free wine tasting and barbecue will be available. White Buffalo Wines, 4040 Westcliff Dr., Hood River; 541-386-5534.
Anniversary party at The Pines
Thursday nights at The Pines continue with Kerry Williams and Crew from 6:30-9:30 p.m. Join Kerry and his musical compadres as they rock with their impromptu solos and smooth vocals. On Friday, Aug. 26, it's a Tasting Room Anniversary Party, from 6-9 p.m. Celebrate five years with live music from blues legends John Mazzocco, Brian Foxwirth and Alan Hager. The Pines Tasting Room, 202 State St., Hood River; 541-993-8301.
Gordie Withrow benefit Aug. 28
The Knuckleheads — the best of the best PDX blues players — are coming to The Pines Tasting Room on Sunday, Aug. 28, from 4-7 p.m. to play a benefit concert for Mosier resident Gordie Withrow, who lost everything in a house fire earlier this year. Suggested donation is $20 or more.
Henry Schifter at Stonehedge
On Friday, Aug. 26, join guitarist Henry Schifter and keyboardist Dan Crothers for some jazz standards and more at Stonehedge Gardens from 6-8 p.m. Stonehedge Gardens is located at 3405 Cascade Ave., Hood River; 541-386-3940.
J.T. Blue at Thirsty Woman
J.T. Blue will be playing an eclectic blend of bluesy, jazzy, originals at The Thirsty Woman in Mosier on Saturday, Aug. 27, from 7-10 p.m. The group features Tom Reinerth on guitar and vocals, Jon Cyparski on guitar, flute, and vocals, Darren Rogers on bass and Jose Maya on drums. Thirsty Woman Pub, 904 Second Ave., Mosier; 541-478-0199.
John Kaiser at Solstice Aug. 26
Join Solstice Cafe for Bingen's Last Friday celebration with live music from 6-9 p.m. featuring Portland's premier French Troubadour John Kaiser, samples of local wine and art from local artisans including Carl Warren. Solstice Wood Fire Cafe, 415 W. Steuben, Bingen, Wash.; 509-493-4006.
'Bigfoot' at Families in Park
Families in the Park concludes on Thursday at Jackson Park, 13th and May streets, in Hood River. Opening acts — and dinner — will begin at 6 p.m., with the main show running from 7-9 p.m. Thursday, Aug. 25: African Drumming will open for Bigfoot ("Jamm'in Music"). The Hood River Lions Club will serve barbecued hamburgers. Donations are needed, and even $5 will make a difference. Visit www.hrcommunityed.org to donate for this community event.
Bill Rhoades & the Party Kings at CEBU Lounge Aug. 26
Bill Rhoades & the Party Kings make an appearance in Hood River on Friday, Aug. 26, starting at 9:30 p.m. at the CEBU Lounge — get ready for some harp driven, house rockin', electric blues. On Saturday, Aug. 27, the Americana rock of Low Bones takes the stage at 9:30 p.m. Drawing on a mix of influences, the original songwriting recalls the country-rock sound of Gram Parsons, Camper Van Beethoven, and Uncle Tupelo.
Entertainment listings can be e-mailed to jdrake@hoodrivernews.com