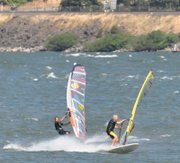 Bruce Peterson doesn't intend to give up the Gorge Cup anytime soon.
Peterson won the series for the fifth consecutive time Saturday, but Tyson Poor served notice that the Gorge windsurfing legend will have to work hard to make it six straight.
The victory was the fifth consecutive time Peterson has won the series. After Peterson and Dale Cook traded series wins early in the decade, Peterson has had total dominance of the event since 2007.
This year, though, Poor, a freestyle windsurfer who stretched his talents into racing this season, pushed him all the way to the finish.
"I had to dig deep this year," Peterson said.
The two were 1-2 for much of the season and finished in a dead heat in Saturday's final race.
"Time is on his side," Peterson said. "I had to dig deep into my masters bag of tricks."
The 28-year-old Poor likely won't be the only one pushing Peterson in the next few years. Alex Nielsen, who recently graduated from juniors to the men's class, finished fourth in the final race. Junior Aaron Cardwell finished eighth, and junior women Fiona Wylde and Alyson Fromm finished ninth and 10th, respectively.
"In the last two races we ran them all as one fleet because the juniors are always wondering where they fit in with the whole group," said event coordinator Scotia Bauer. "They were all pushing at the front third of the fleet."
Both Bauer and Peterson were excited about the influx of young talent, and hope to see the junior fleet expand next year.
"The young kids are into it," Peterson said.
However, Peterson said his experience still gives him an edge, and hopes it will keep him at the top of the heap for a few more years, at least.
"That what the young guys will learn finishing second," he said, and added with a chuckle, "For awhile."
Final standings:
Overall
1. Bruce Peterson
2. Tyson Poor
3. Jax Le Roux
Men
1. Tyson Poor
2. Casey Hauser
3. Alex Nielsen
Senior
1. Jax Le Roux
2. Joe Wyatt
3. Brian Schurton
Grand Masters
1. Bruce Peterson
2. Jay Salzman
3. Carey Caronni
Masters
1. Sam Bauer
2. Andreas Macke
3. Igor Landais
Women
1. Shelley Gimbal
Junior Boys
1. Ben Grodner
2. Aaron Cardwell
3. Sean Williams
Junior Girls
1. Fiona Wylde
2. Alyson Fromm
3. Milena Johnson