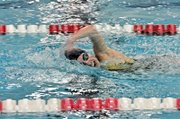 They didn't get the win, but the Hood River Valley girls swim team got a vote of confidence from their coach after its meet with St. Mary's Thursday night.
"We're pleased with it being as close as it was," HRV coach Shea MacNab said after the Blues beat the Eagles 89-82 in Hood River. "This was a district prep meet."
The Eagle boys got most of the night off, swimming just a few 100 meter events against each other, and the Eagle girls entered numerous swimmers in new and/or different events to try out different things for their district meet in two weeks.
"We had a funky line up out there today," he said. "We put some swimmers in some different events."
The Eagles wound up being edged by the Blues in the final relay of the night, and likely would have beat them if they had entered a full field of three relay teams. Instead, MacNab gave his tired A squad a rest and sent two teams against three for St. Mary's.
One of the swimmers on the team that got the break (and who also helped it finished first and second in the two relay events) Alyssa Walker, said the team has learned what it means to swim while tired the last few weeks.
"We were swimming tired because we've been training so hard," she said.
After a month of going full speed ahead in practice, the team is now starting to taper off to prepare for its district meet. Its members are ready for that tapering to begin.
"I just want to see the back of my eyelids," junior Taylor Tyynismaa said with laugh when asked what she wanted to see out of the team in the next few weeks before district.
The drops in the HRV times have been less in the past week as the fatigue set in, but MacNab said that is all part of the learning process, as they'll need to learn to overcome fatigue to get through the last few yards of a close race in the district meet.
"They are starting to feel that fatigue," MacNab said. "We had a lot of tired swimmers out there today."
For the next two weeks the Eagles are going to be preparing for the district meet, which HRV will host. In the mean time they have one more away meet, and one last chance to see their district competition when they travel to Pendleton next week.
The meet against St. Mary's was the final home meet for HRV seniors Eric McNerny, Anne Iskra, Ali Danko and Alyssa Regentin.
"They've done a lot for us," MacNab said. "We appreciate everything they've done for the team."
Results
St. Mary's 87 HRV 82
200 medley relay
12 HRV A (Miller, Walker, Galvez, Tyynismaa) 2:17.03
4 HRV B (Buttaccio, Engbersen, Schilling, Grace) 2:33.14
6 HRV C (Iskra, Danko, Paul, Patrick) 2:45.55
200 Free
2 Anika Engbersen 2:48.13
3 Ansley Bricker 2:50.39
6 Lily Buttaccio 2:56.83
200 IM
1 Alyssa Walker 2:40.23
2 Danielle Miller 2:46.40
4 Kayla Schilling 3:05.79
50 Free
1 Taylor Tyynismaa 29.18
3 Rebekah Galvez 32.76
4 Tori Grace 33.26
100 Fly
1 Alyssa walker 1:11.32
4 Roslyn Patrick 1:33.15
5 Lilly Paul 1:34.81
100 Free
1 Kayla Schilling 1:11.41
3 Rebekah Galvez 1:12.40
4 Tori Grace 1:17.04
500 Free
3 Taylor Tyynismaa 5:18.66
5 Susan Raulston 6:29.60
6 Emily Wells 6:32.30
200 Free relay
1 HRV A (Walker, Miller, Schilling, Tyynismaa) 2:04.73
3 HRV B (Galvez, Engbersen, Patrick, Grace) 2:21.41
5 HRV C (Buttaccio, Danko, Bricker, Paul) 2:29.98
100 Back
2 Danielle Miller 1:15.78
4 Lily Buttaccio 11:29.06
6 Anne Iskra 1:39.93
100 Breast
3 Anika Engbersen 1:32.58
4 Ali Danko 1:42.24
6 Ansley Bricker 1:49.16
400 Free relay
3 HRV B (Paul, Wells, Raultson, Troxel) 3:36.21
4 HRV A (Patrick, Bricker, Iskra, Danko) 3:44.66