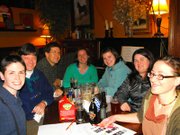 "Triskaidekaphobia," called out Quizmaster, Carlson Muss.
Cheers and groans arose in equal measure, fists pounded tables and high fives were passed around at tables of tightly packed pub patrons - or should we say "quiz-heads".
The crowd's enthusiasm, mixed with antique pub tables, English memorabilia on the walls and a variety of comfort foods, spirits and ales, gives a taste of the scene from the Wednesday night Pub Quiz at The Horse and Hound Pub at 403 Oak St. in downtown Hood River.
The weekly team-based contest brings together adult trivia buffs, pub enthusiasts and competitive nerds alike, for an ironically serious battle of the minds.
"Right now eight to ten teams compete in the winter and up 15 in the summer. We can go up to 21 teams," said Muss. "Each night is different here and it is a lot of fun."
Triskaidekaphobia (fear of the number 13, by the way), was the answer to the final round of questions and quiz sheets that teams, made of up to six people, had successfully completed in order to be "in the money" at the end of the battle on Jan. 19.
There is money involved, which makes even the normally sedate intellectuals on the teams, strangely lively. The first place prize ends up working out, on an average Wednesday, to about $10 to 15 per person on a six-member winning team.
Total prize monies are determined weekly by the number of teams and individuals paying the $3 sign up costs for the game. Second place teams also split some of the evening's take.
The quiz, which begins every Wednesday at 7 p.m. and usually ends before 9 p.m., is not recommended for those offended by alcohol consumption or oft-heard, off-color jokes. And, given the cozy space, regulars know to arrive early.
In fact, ask anyone on the infamous "Sandbar Developers" team, who are known as the "team-to-beat." They'll be happy to point out the winner's table -the only pre-reserved space at the pub at which their team often earns a place.
"We've been coming here for almost four years," said Joe Sheahan, team member with Sandbar. "A lot of us regular teammates work at the Hood River Inn, but tonight we brought some newbies with us."
On this night, those newbies were rewarded if they knew the difference between a futtock and a tittle - to share just a small sample of the word fun often included in the questions.
Not sure of what those words mean? Unlike the pub crowd whose i-Pods and cell phones are banned during the contest, you can look those up.
Beyond the word play, obscure photo identification sheets and mountains of music, television, history and popular culture questions are the usual obstacles for the minds in the room.
Bonus points are often awarded for special costumes or gathered items (including food bank donations), making the more competitive individuals attentive to every detail where extra points may be earned.
Muss, as official Quizmaster, is the de-facto leader of the noisy fun. He is also a blogging member of Pub Quiz USA and conducts quizzes in Vancouver and Beaverton as well.
"I did a lot of improvisation and comedy before I started this work," said Muss. "It also helps to be a bit of a diplomat when issues come up."
And issues do come up. Sometimes, the normally secretive teams accidently blurt out an answer or argue a point. Then Muss has to come up with a solution that keeps the point-hungry crowd satisfied.
In the final round, teams are also tested on their strategy skills, since winning scores may depend on a final strategic bet.
Similar to the television show "Jeopardy," top placing teams must make a bet with their accumulated points prior to knowing what the final question category will be.
Though many a solid team has perished in the last few moments with an over-confident bet or downright lame answer, even losers walk away with a feeling of having well spent their evening.
Oh, and on this particular night, Big Bamboo took home the bacon - just inching out Sandbar Developers.