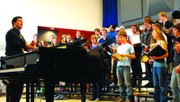 Dr. Ethan Sperry may not be a household name, but the music he helps bring to choirs around the world certainly is.
Chosen by A.R. Rahman, composer of the Oscar winning "Slumdog Millionaire" film score, to arrange choral music from selections of his film and other works, Sperry recently brought his expertise in person to the Chamber Singers of HRVHS on Feb. 7.
Mark Steighner, in preparation for the upcoming Chamber Singers U.K. performance tour, commissioned a new choral work from Sperry, based on an ancient Buddhist mantra. "Mantra" is the title of Sperry's newly minted piece.
As part of the commission, Sperry visited during the noon-hour class to hear his work performed for the first time, and to provide direction and critique of the group's progress in interpreting the work.
"This is an inspired and enthusiastic group of singers," said Sperry of the choir. "The energy in the room here is quite remarkable."
Sperry worked from a simple, meditative melody chosen by Steighner in creating the new arrangement for a four-voice mixed gender choir.
In addition to the newly learned piece, the Chamber Singers are also preparing two additional Sperry arrangements of Rahman's work for their tour.
One, "Zikr," was performed last year by the Chamber Singers and will be repeated for the tour this year. The second, "Balleilakka," is new to the group. Both pieces produce a high-intensity, percussive experience for the listening audience reminiscent of the "Slumdog" film score.
Along with the engaging, Indian instrumental-based strains of the music itself, Sperry's visit outlined a vision for choir members which places shared cultural music at the heart of developing worldwide mutual respect and understanding.
"What I find is that doing a piece of music from somewhere different leads us to understand how really very similar we all are," Sperry pointed out to the class.
"All religions teach us that we need to get beyond our little selves in order to experience a connection to a larger humanity," Sperry said. "Choral music is one of the ways I know of that allows me to do that. It helps me connect to something beyond my everyday worries."
"This is a great opportunity for our choir," said Steighner. "We are very lucky to have had the experience of working with such a great arranger."
Currently a professor of music at Portland State University, Sperry also leads the choir ensembles at that campus. Prior to his arrival at PSU this year, he was a choral director at Miami University of Ohio for 10 years.
Sperry's choirs have performed at major venues in the United States including the Kennedy Center, the Washington National Cathedral, St. Patrick's Cathedral in New York City, the Nassau Coliseum, Cincinnati's Music Hall and Boston's Symphony Hall.
Ensembles under Sperry's direction have also toured to Bermuda, Estonia, Finland, France, Germany, Guadeloupe, Italy, Jamaica, Japan, Korea, Luxembourg, Puerto Rico, Russia and Taiwan.
Born in New York City, Sperry began studying conducting at the age of 8, cello at the age of 12 and singing at the age of 18. He holds a bachelor's degree in philosophy from Harvard College and master's and doctoral degrees in choral conducting from the University of Southern California.