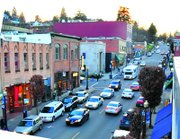 The City of Hood River is in the process of an extensive update of its Transportation System Plan (TSP). Since the current TSP was completed several years ago, evolutions in traffic, housing, employment and industry around town have created the need to update transportation system in several areas, and to look ahead to what changes will be needed over the next 20 years or so.
At a public meeting Thursday, about 25 people turned out to review draft TSP updates and give input to consultants hired by the city to help create the new plan, which is expected to be presented to city council for approval in June. When approved, the new TSP will act as an element of the city's Comprehensive Plan and will outline a wide variety of changes and updates to the current transportation system. With limited funds available for capital projects (about $3.3 million over 20 years), the city will have to prioritize on the nearly $50 million worth of projects recommended in the updated transportation plan.
To help create the draft plan, the city established a TSP Advisory Committee, which first met in June 2010. The committee consists of 16 local representatives involved in area planning and/or commerce. A bicycle/pedestrian subcommittee of 10 individuals was also created.
Thursday's meeting broke the draft TSP down into several areas of focus, including proposed motor vehicle route improvements, local street connectivity and proposed bicycle and pedestrian networks. The purpose of the meeting was to present the variety of ideas and proposed changes to the public and gather input.
From connecting existing streets or building new ones that would alleviate pressure on currently stressed arteries like May, 13th, Oak and Cascade, to connecting sidewalks, adding bike lanes and creating a network of cross-town pedestrian and bike paths, the goal of the new TSP is to be forward-looking; to not only alleviate some of the current transportation issues around town but accommodate for future growth in residential, commercial and tourism traffic.
•
Public comments and ideas are still being accepted. Feedback collected will be combined with input from the advisory committee to finalize an updated TSP draft to be presented to the city council in June. The adopted version of the TSP will include action plans for implementing improvement projects, recommendations for funding improvements and goal/policy changes that can be used to update city of Hood River codes and standards.
TSP draft plans and maps can be found by searching the city's website at www.ci.hood-river.or.us. City Planner Cindy Walbridge is the contact at cindy@ci.hood-river.or.us or 541-387-5217.