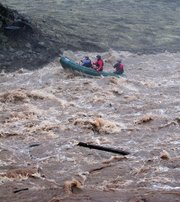 Several days of rain over the last week was topped Sunday by a record-setting soak that saw 1.12 inches of precipitation in Hood River and up to six times that much on Mount Hood. Mt. Hood Meadows recorded 5.45 inches and Timberline 6.76 inches of rain in a 24-hour period, which sent rivers on all sides of the mountain into a raging state of craziness.
The amount measured at the Oregon State University Experiment Station was the highest on record for any Jan. 16 since 1953, when 1.06 inches made the 24-hour record.
Aside from a few minor reports, however, no major damage or incidences in Hood River County were reported from the flooding. County 9-11 dispatch reported six high water/weather-related calls for assistance between Friday and Sunday.
To see how crazy the river was, watch the video below