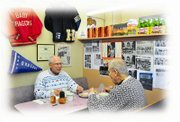 When Roger Woosley holes up in his "Dragon's den," we're not talking about your average man cave retreat.
In fact, we are talking about a snug corner of the pie shop and deli he and his wife, Lindamay, own and operate inside the Tricycling Along antiques store on Hull Street.
Amongst the 1950s-style dinettes, radios, tea cups and antique train sets, Woosley has begun displaying memorabilia from the once pre-eminent Hood River High School Blue Dragons.
"HRVHS came about when the two old high schools, Wy'east Golden Eagles and the HRVH Blue Dragons, merged in 1970. I was a Blue Dragon all the way. We had quite a rivalry," said Woosley, a '57 HRHS graduate.
The Dragon's den, along with the wonderful homemade soups, pies and sandwiches, is part of the Woosleys' cozy, everyone-knows-your-name, old-fashioned goodies and coffee spot, which caters mostly to longtime locals and nearby medical office personnel.
Woosley began collecting and displaying photos, football programs and athletic gear from his former high school when his son Tim brought in a 1939 Hood River News article featuring Woosley's old football coach, Ed Vannet ('43) as a high school student himself. (Vannet, for whom Vannet Court at HRVHS is named, died in 2008.)
"I saw that article and the original photos of Ed. It got me thinking about the old days and I just started to bring in my high school things. Since then, other long-timers have been dropping stuff off," Woosley said, with a sweep of his hand showing the displayed items on the walls.
Woosley, a varsity player in football, basketball and track while at HRHS, displays his old navy blue football letterman sweater with pride. And, right next to it hangs Ken Jernstedt Jr.'s "baby Dragon" youth jacket in bright red satin and white piping.
"Sherry Vannet, Bonnie Crown, Mary Jane Buckley and Doc Lewis' wife have all brought in some things," Woosley said. "But I'm hoping more people will bring stuff - especially things from the '40s and '60s."
If you drop by, even without memorabilia to contribute, Woosley will be happy to share a good story or two with you while you savor the delicious selection of pies featuring Lindamay's "absolutely secret" piecrust recipe - especially if you ask about sports.
"I just love sports!" said Woosley. "I played everything I could. My dad almost took me over to Wy'east when HRHS dropped baseball my sophomore year."
Woosley smiled with the reminiscence, and then dropped an enticing hint. "I also got my nickname from an old coach."
After dangling the bait and getting asked, Woosley answers with a song, "Roger Woose, was a swoose, half swan and half goose … They've been calling me goose ever since my old basketball coach sang that to me during practice," laughed Woosley. "I guess I waddled like one when running down the court."
The good stories and interesting history lessons have some competition though from the enticing aromas floating in from the kitchen.
The missus behind the magic in the deli, Lindamay Woosley, is a renowned cook and baker.
"I want to serve food that tastes good without a lot of preservatives," Woosley said. "We also really like being a gathering place for the community where people have fun when they visit."
Along with their niece, Charmaine McCafferty, who makes the homemade soups and provides service, the Woosley's continue their long tradition of starting small, successful businesses, with their new appealing menu.
"My lovely wife is a very hard worker and a very good cook," Woosley reflected. "She comes from a family in which cooking is the most important thing in life!"
The results are evident in every delicious bite, with the local history adding that extra special touch to the dining experience.
In their 50-year marriage, the Woosleys individually and as a couple have tried their hands at many other money making ventures, beyond the deli.
Lindamay is currently an active local realtor with Windermere and continues to offer some catering. Roger has managed an orchard and an Oregonian newspaper dealership. They once ran a grocery and post office in Arch Cape on the Oregon Coast.
"I guess we are really just adventurers," Woosley said.