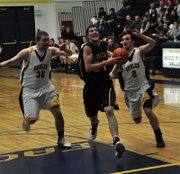 Hood River Valley basketball continued a run of tough luck in games against Hermiston Friday night with the Eagle boys falling at home and the Eagle girls falling in Hermiston.
Playing without leading scorer Justin Schultz the Eagle boys hung with Hermiston through halftime Friday before the Bulldogs pulled away with a big third quarter.
Playing at Hermiston the HRV girls fell 69-59 after being outscored 19-7 in the second quarter.
In Hood River the Eagle boys hung around through the first half thanks to tenacious defense, but Hermiston's athleticism, and a roster that features three players 6'5 and above, began to dominate in the second half.
Hermiston outscored HRV 16-5 in the third quarter, with its run punctuated by a Trevor Phillips dunk with 1:07 to play in the quarter which put them up 39-26.
The Eagles only cut the deficit to double digits once after that - a Dalton Frazier steal and lay-up to make it 42-33 with six minutes to play in the game - and Hermiston easily won its fifth straight game to stay atop the Columbia River Conference standings at 5-0, 9-6 overall. The Eagles drop to 0-5 in league, 2-14 overall.
In Hermiston the Bulldogs decisive second quarter had the Eagle girls on their heels heading into halftime and HRV never fully recovered.
Heidi Walchli and Maloree Moss led the Bulldogs with 19 and 15 points respectively, while HRV had four players in double figures -- which was not enough to stop the surging bulldogs.
"I left an odd line-up in too long and we didn't finish," HRV coach Tom Ames said. "They just outscored us."
Jaci Bryant scored 18 points to lead the Eagles, with Emily Ing netting 16 and Angie Titus and Logan Bailey at 10 each.
Hermiston improved to 5-0 in league and 11-5 overall, while HRV stayed in second place despite the loss and dropped to 2-3 in league and 9-7 overall.
Both HRV teams had a bye Tuesday before travelling to The Dalles Friday for a doubleheader.