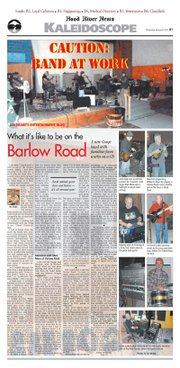 Last week I finally paid a visit to one of the Gorge's newest bands. I had been meaning to do this for a while now, but every time I wanted to do a story on these guys, they 1) kept changing the band name or 2) kept changing band members.
Being in bands myself over the years, I certainly know how that goes. So when my friend Matt Mesa told me that his new band, Barlow Road, was having a band practice at a time that I could work into my schedule, I jumped in the car and headed across the river.
I arrived at a building that immediately said one thing to me. "Under Construction."
I had to laugh. Over the years, my bands have practiced in (no particular order) woodshops, breweries, basements, outbuildings, machine shops, living rooms, front and back porches, downtown Hood River businesses (during normal business hours and after hours), barns, on sidewalks, parking lots and campgrounds. I'm sure there's a few more places I've forgotten; I think we rehearsed in an alley one time, about 15 minutes before a show.
As I walked through the front door, I kept looking for signage that said, "Construction Zone," "Enter at Own Risk," or "Authorized Personnel Only." I didn't see any.
A little maze of hallways followed and finally emptied into a cavernous area. My eyes started to adjust to the windowless, randomly lit space. The eerie strains of a pedal steel guitar bounced around the room.
I looked around. There was lots of plywood. Random bits of furniture. Piles of music gear tucked away in the corners. But, in spite of all this, there was one thing in the room that most bands would trade their lead singer for. A huge stage. Can you imagine a band practice room with a real stage? Cool.
Gorge musician Rick Hulett, who was just practicing that pedal steel, greeted me and gave me a quick tour of the building. It turns out he and some friends are developing a studio/theater here, with a stage, music isolation booths and a separate mixing control booth. This is Way-Cool.
In the mixing booth I noticed a copy of Keith Richard's new book "Life," on the table. I thought about how the Stones must have started out, probably under impossible conditions -broke, no rehearsal space. I silently compared that situation to the computer screens that were playing back last weeks recording session. I don't think Mr. Richards had it this good when his band was starting out.
My visit made me realize when bands like Barlow Road are at a band practice, stuff like building cosmetics don't matter too much. In fact, as Matt mentioned in my interview, the music isn't about fortune and fame, either. The goal of music is about working on a project and having fun, and that's what these guys were doing. My grainy photos show that pretty well. But I still think there should have been a sign to warn passerbys, just so they know. "Caution: Band at Work."
Barlow Road will be playing at Double Mountain Brewery in Hood River on Friday, Jan. 28.
Interview with Matt Mesa of Barlow Road
Let's tell the Gorge and beyond, who is Barlow Road, what are you guys playing and what connection does the band make with this historic Oregon landmark?
Well, right now Barlow Road is a 5-piece band playing original roots-rock, Americana, alt-country- what ever that is. To be honest, the band has some of the finest musicians in the Gorge: Rick Hulett on guitar and pedal steel, Ed Dietrich on bass, Kerry Williams on mandolin, Tim Ortlieb on drums, and myself on guitar. We recently lost Mike Brinster to a new job in PDX, but we suspect he'll still be around. He'll always be part of the band. I'm the junior-level musician in the band, but I write all the songs. Over the years, I learned that being surrounded by all these great musicians in the Gorge meant that I had to find a different niche. I decided, several years ago, to try my hand at songwriting. The fact that all these guys happily, willingly, play these songs is some kind of testament. I've been privileged and humbled over the years playing these songs with all of these great musicians - including yourself.
Although Barlow Road is where I'm at now, the journey has been interesting and fun. Prior to this, as you know, I fronted an alt-country band called mile marker 6. This was a particularly fun gig because it was comprised of a good group of friends. Two gals, three guys, harmony vocals, banjo - what more could you want? Before MM6, I spent a few years dabbling around in what could be called "alt-bluegrass" - really hanging in one band with a couple of different names: first, No Depression, next, All Night Station. This was really an adventure in playing some pop and rock songs we liked with bluegrass instruments. Our bass player, Dave Swann, was the oldest in the group and he kept us grounded by including some traditional tunes. As did you - the mandolinist who made us learn and play some fiddle tunes. This was another fun gig - we even played around a single mic sometimes - but we weren't bluegrassers, we were rockers! No high lonesome harmonies here. All in all, over the last 10 years or more, it's been a fun journey. Again, to be surrounded by all this talent is amazing.
•
Our connection to the real Barlow Road? I've been in many bands over the years and choosing a name has always been difficult - and an adventure. What can I say? Barlow Road, as a band name, to me, connotes images of rural America, a certain rusticity, dirt and roots. It seems to fit.
You guys have played Naked Winery, the Pines and CEBU? Where else have you played and where is 2011 going to take you?
Well, we've pretty much played all over the Gorge - in both Washington and Oregon. We like to joke about a grueling two state tour. We've had a good time playing at some outdoor festivals, like the Hood River Hops Fest and Double Mountain Brewery's Summer BBQ, and would like to do more outdoor shows. With our busy schedules (read: day jobs) we only play about once or twice a month, perhaps a bit more in the summer. Look for us at all the regular Gorge establishments showcasing local music. One day, we'll probably try our hand in PDX.
Tell us how the set-list is working - is everyone contributing songs, do they have to be original?
Well, like I said, I write all the songs and we do mostly original material. Others in the band are songwriters, but I think they pursue those avenues in other musical adventures they pursue. I think Barlow Road is somewhat unique for these guys - they get to rock in this band, play a different type of music. These guys play out a lot, in a variety of permutations, but they don't often get to play the type of music we do in Barlow Road. I think it's kind of a release for them - it is a lot of fun. I think this is the only band where Rick really gets to play steel guitar - he loves it and we do too. It's been my dream for a long time to play in a band with pedal steel guitar.
•
We do some select covers, mostly by folks who don't get the credit they deserve. And, it gets Ed singing some leads. Recently, we've been covering songs by Tim Easton, Slaid Cleaves, The Jayhawks, Fred Eaglesmith, and The Band of Heathens. Covers are a lot of fun and I'm sure we'll be doing more.
I hear that a CD is in the works. How long of a project do you anticipate - are you going track-by-track or more of a live feel?
Yes, we are in the studio working on an EP. It'll be a five song sampler, so to speak, and we are excited about it. We're tracking it, but it has a live vibe to it. This is the first time for me in the studio, at least in a serious way. As you know, I've dabbled a bit in recording, but never seriously - nothing ever got finished. This EP will get finished, packaged, with original artwork and songs! The EP was a good way to go - not too many songs, it's less work, less stressful, and it allowed us all to learn to work together in the studio. I think we've all enjoyed it, look for it this spring.
People who are in bands like reading about other band's music gear. Go ahead and describe some of your music/PA gear.
Whenever you get around musicians that are this good, this serious, you're going to see nice gear. I'm not going to claim to know everything everyone is playing, but let's just say that we fiddle around with Telecasters, Gretsch guitars, Godin basses, Mesa and Fender amps - all nice, professional stuff. It always amazes me when we're playing a club like the Pines or Naked Winery and it looks like we're a headliner at the Rose Garden - just so much gear on stage. I myself play Collings guitars (if you have to ask, you'll never know) and our PA has been mixes of the Bose PAS systems. Great sound from the Bose systems, but you have to watch where you place them and make sure the settings are right.
Since I happen to know the approximate age group Barlow Road is in, has the band embraced any of the new "social networking" tools for band promotion? (iPhone, Youtube, Facebook)
Oh yeah. First it was all MySpace - and we still have a page there, but I guess MySpace is losing its "hipness". We have recently set up a page on Facebook - it's so much more "in" these days - so search for us there. Tell everyone to sign up as a fan, that way we can get an actual URL from Facebook. You have to do this stuff these days, the internet is the new promo kit. I think it does help us get gigs, though, so it's worth it.
Finally, I need to ask, where exactly does the Barlow Road lead?
Man, I just hope we get to do this for a few more years. It's just too much fun. We're never going to get rich and famous doing this, but it's so satisfying. But who knows? Someday, it would be good to record a full-length CD and to tour a bit - go play in some places we haven't been before, open for some bigger name shows in PDX. That would be cool. Playing live is what it's all about - we just love it. I'd like to see local music in the Gorge get the respect it deserves, I think all musicians, in some way, desire some recognition. Look outside your door and listen - it's all around you.