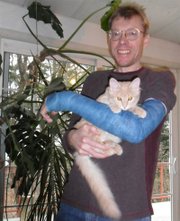 Unlike the amount of effort it took to rebuild the 6 Million Dollar Man, which I believe, was something like 6 Million dollars, I hope you are enjoying our Hood Rver News website rebuild.
I think the site looks really nice! A lot of folks here at the news, including Ben, Esther, and Adam have worked hard over the last few months working with our tech support to get this site in gear.
As you may have noticed, some sections are still in the "re-building" stage, including my entertainment blog.
Rest assured, that somewhere, out in the deep recesses of cyber-space, my blog archives exist, and will be coming back online soon.
That said, I'm really excited about my upcoming blog this year, and my special feature will be in a format that will be new to me, yet so familiar in so many ways.
All I can say for now is, "I hope You'll Tune In." I'll have more details later!
And speaking of "re-building," I've been in a kind of re-building mode myself.
You see, on New Year's Eve, I slipped on a sidewalk while at home, and managed to fracture my left wrist. (OMG, did that hurt.) I need to say thanks for all the well wishes I've received over the last month. Also, thanks to the (person or persons) who invented X-rays, pain killers, fiberglass, hospitals, the medical profession, waiting rooms, nurses and extra-large items of clothing that fit over arm casts.
I really couldn't have done all of this healing without you.
So, besides being a one-handed typist for the last few weeks, let's just say that this experience of limited arm/hand movement has been a challenge and humbling at the same time.
Cheers to all, and see you out in cyber-space soon!