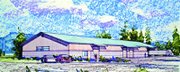 The Port of Cascade Locks will soon have a new tenant or tenants
The port recently received approval to construct a 10,000-square-foot flex space building which is scheduled to open in the fall.
The port has contracted with JWC Construction of Vancouver, Wash., to handle the construction.
The building can have an open interior to handle one large tenant or can be split into four 2,500-square-foot sections.
Port General Manager Chuck Daughtry said the port is in the process of lining up potential businesses for the site.
"We're looking at business up and down the Gorge," he said. "It's in an enterprise zone so the first party in gets to avoid property taxes for three to five years."
The port is making a push toward recreation industries in the building, including the bike and sailing market, which anchor the Cascade Locks outdoor recreation scene.
The area is zoned light industrial, meaning the building can accommodate facilities ranging from manufacturing to office space.
Daughtry said the port has had discussions about building in the area near Herman Creek for more than a decade and has now reduced its debt load enough to make the project feasible.
He said the port obtained a state loan for up to $850,000 to help with construction and that JWC's bid had been for just over $600,000.
Once the current building is completed and occupied the port has plans to build another similar building at the site.
For more information on the building visit www.portofcascadelocks.org/property.