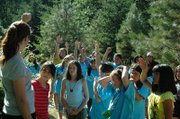 Loud cheers, squeals of laughter and infectious camp songs ring out nightly amidst the towering cottonwoods and alders along the picturesque mid-waters of Indian Creek.
When the shouted calls of "Fire, Fire, Fire" resound, one might think this is a firefighter's training center. But no - it is just the happy voices of 62 campers, 20 teen counselors and 10 or more adults joining together in the ever-popular and maddening camp song that haunts every summer camp from here to Portland, Maine.
Camp St. Mary's is now in its 19th year of existence, started and run annually in the backyard of its founders, Pat and Becki Rawson, whose 10 acres of land serve as the annual host site.
"To those whom much has been given, much will be expected."
This quote has been a guiding principle behind the Rawsons' efforts to provide a summer camp experience for youth who might not otherwise be able to afford one, provide leadership opportunities for youth and to promote positive relationships between Anglo and Hispanic community members.
"We charge $10 per camper for the three-night and four-day camp," said Becki Rawson. "That includes 10 meals and all the activities and crafts; and tents are provided."
That cost has not changed in 19 years - primarily due to the many, many community members, both Catholic and non-Catholic alike, who donate funds and volunteer time to make the camp affordable.
The other vital reason the camp endures and fills up within an hour of registration opening, is the Rawson's ability to inspire their own children, Danny, Sean, Katie and Claire, plus their many extended family members, into active leadership roles.
This year's camp directors are Katie Rawson, and her cousin Michael Hasken - who has flown in from Louisville, Ky., for the last few years to volunteer.
Hasken's father, Michael Sr., and mother, Ann Oldfather (Becki's sister), along with Hasken's sister Ellie, have been stalwart camp supervisors for many years, as well. The entire family spends its summer vacation serving campers year after year. This year Hasken also brought his childhood friend, Scott Swartzwelder, to lend a hand too.
Becki Rawson's mother, Joan Barrett, remains an integral part of food preparation and arts and crafts sessions. Close family friend Mary Anchieta is the official kitchen-master.
That strange tendril-like expanding call to service is a hallmark of the Rawsons' success. Pat Rawson now serves as camp director emeritus - otherwise known as the "camp grandfather," and has provided the inclusive philosophy and faith in human goodness that underlies the camp's inspiring relationships.
Several of this year's helpers have been here from the founding year of the camp. Parents, community members, church groups and teen volunteers from HRVHS and other high schools regularly fill out the ranks and return for several years in a row.
The fun comes in many forms for both campers and teen counselors and adult supervisors so it is no wonder everyone keeps coming back.
The full days include swimming, archery, group water relays, hiking, a mucky-yucky creek crawl, roller-skating, bowling, arts and crafts, wilderness skills, skits, soccer, games, field trips to Lost Lake, the ice caves and Beacon Rock and the ever-popular nightly campfire sing and closing prayer.
Meals are provided and served by multiple community groups and there is always plenty to eat. Not surprisingly, s'mores remain the all-time hit.
Campers range in age from 7-13. At 14, former campers take on leadership roles as counselors-in-training. Many of this year's teen counselors were once small campers themselves.
Not dependent on church funding, the camp has always managed to find willing hands and generous benefactors to keep the dream of "summer camp for everyone" alive.
For anyone interested in helping with this or next year's camp costs or service options, contact Becki or Pat Rawson at 541-386-2510.