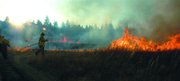 Fire season is off to a slow start across the Northwest, but for the windswept region of the Hood River valley and the Gorge, the potential for a large-scale incident is just a hot day away.
A record-setting cool, wet spring has had mixed influences on the current fire season. On one hand, Oregon has seen far fewer wildfires so far this year than average. Oregon Department of Forestry reports that on ODF-protected lands, from Jan. 1 through July 1, a total of 53 fires have burned about 29 acres. The 10-year average for the same time period is 223 fires and about 623 acres burned.
On the other hand, more moisture later into the summer means an increased and prolonged growth of grasses and underbrush; called flash fuels because they dry out, ignite and spread very quickly. With even just a couple days of summer winds and warm temperatures, essentially all light fuels are dry enough to create high fire danger.
"The significantly wet spring led to large growth of grass and high fuel loading, which we are concerned about," said Dave Jacobs, ODF unit forester out of The Dalles. "We responded to a couple small fires in Kingsley area over the weekend; one that was caused by fireworks and the other by a smoker. Things are drying out very quickly, and as the weather warms up people are obviously going to need to be much more careful."
The fire danger for ODF's The Dalles Unit, which covers Hood River County, was rated as high on Friday. The unit is staffed with two engines and four firefighters at the Parkdale Guard Station and six engines, a dozer, a water tender and at least two firefighters per engine out of The Dalles.
Jacobs said as a burn ban went into effect on July 1 for both Hood River and Wasco counties. The ban is a multi-agency policy that restricts activity like backyard burning of debris piles, slash, yard waste and burn barrels. The next step in regulation for ODF-protected lands is Regulated Use Closure, which regulates activities like campfires and use of charcoal grills, off-highway vehicles and chain saws.
The last major local fire for ODF was the Microwave Fire in August 2009. The 1,300-acre fire, thought to be human-caused, started on the east hills of Hood River and spread rapidly with strong winds to threaten the entire town of Mosier.
The story is similar for Mount Hood National Forest; a slow start, but by no means out of the woods yet.
"We've shipped three of our firefighters down to Arizona as part of a type-2 crew," said District Ranger Daina Bambe, MHNF Hood River Ranger District. "It's been pretty darn quiet around here so far. We've responded to a couple abandoned campfires, but nothing that has escaped."
Bambe said the district recently performed a prescribed burn in the Camp Baldwin area off Highway 44.
"There was a lot of snow in the mountains this winter and it was a wet spring," she said. "But we were amazed at how easily things burned. It goes to show how quickly fuels dry out, especially with all the wind we get.
"People need to be careful, even in designated campgrounds with fire pits. You can't just leave a campfire going and head out to fish or hike or something. It's illegal to leave a campfire burning."
For Bambe and the MHNF, the last major wildfire was the lightning-caused Gnarl Ridge Fire in August 2008 that burned a total of about 3,300 acres over three months in the Mount Hood Wilderness.
For rural fire departments around Hood River, the busy season typically starts later in the summer; from the end of July through about mid-September, says Devon Wells, Hood River Fire Department chief.
"We're seeing a pretty normal summer so far," Wells said Thursday afternoon. "Things typically start to pick up later once it starts to get really hot and dry. But it's officially fire season, and with the hot weather we've had in the last week it's drying out pretty fast."
In the city limits, Wells said one of the largest fuel threats other than dry grass is blackberry bushes, particularly in open areas and blank land.
"Blackberry bushes might look green, but in the summer they're dry on the inside; and the plant has oils in it that make it burn very hot and fast," he said. "They also grow rapidly and are very difficult to clear out and kill."
In many areas around town, grass and blackberry bushes growing in empty lots creep up against neighboring fences, homes and developments, creating a clear fire hazard, particularly when strong winds are added to the equation. A good example is the Hope Fire in 2008, which started in Interstate 84 from a blown tire. In a matter of minutes the fire spread from the side of the interstate east to the back of a large apartment complex on Wasco Street. Separating the freeway from the complex was dry grass and a wall of blackberry bushes, which quickly caught fire and threatened the entire neighborhood.
Another major incident in 2008 started from a lawnmower blade striking a rock and spreading sparks into dry grass.
"Both were very close calls, and required significant structure protection," Wells said. "It's that time of year when people really need to pay attention to what they're doing."