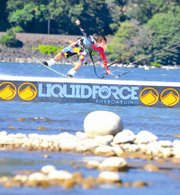 With a mix of influences from wakeboarding, snowboarding and skateboarding, an increasingly popular style of kiteboarding is evolving on Hood River's doorstep, and thanks to a handful of dedicated year-round residents and an open-minded local government, the sandbar is one of the few places in the world where it has taken root.
With movable sliders, boxes, rails and ramps anchored into the sand, a terrain park of sorts has been set up for the last few summers at the east end of the Hood River delta. The advanced features are used by kiteboarders, much like jumps and features are used by snowboarders and skiers in a terrain park; but instead of using gravity to build up speed, kiteboarders use wind power to pull them across the features.
As a testament to the exceptional conditions and progressive approach to the evolution of the sport, a third-annual event this week has attracted many of the best kiteboarders in the world to Hood River. The Ro-Sham-Throwdown started with qualifier rounds Wednesday afternoon and will wrap up either Saturday or Sunday, depending on wind.
"The geography of the area allows for a very unique opportunity for the community," said Forrest Rae, event co-founder. "This is one of the only places in the world where the conditions line up, and where the community and policy-makers come together to allow this kind of thing to happen."
The features, which are utilized by kiteboarders throughout the summer, are built by the Hood River Slider Project, a volunteer non-profit organization that Rea and fellow kiter Joby Cook started a few years ago to be able to raise money need to invest in high-quality construciton materials.
The five-day event this year features about 60 competitors, two days of qualifier rounds and a single-elimination tournament of sorts that will narrow the field down to a finale Saturday afternoon (if wind allows) to determine the best of the best out of a group that is already the best of the best.
"Judging will be based on style, power and the ease at which riders make things look," Rae said. He continued by recognizing the cooperation from several agencies. "We've worked with the Port of Hood River, the City of Hood River, the Oregon State Marine Board, Department of State Lands and the Hood River Sheriff Marine Patrol. An open-minded approach from all the parties involved has made this possible."
Depending on water levels, the best place to watch the event will be either the east end of the sandbar via the Spit parking area or, if water is too high, from the marina swim beach. Look for the best action Saturday starting when the wind picks up and ending with the finals in the afternoon.
More info: www.sliderproject.com