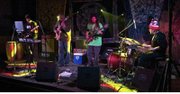 Farmers market starts July 6
The White Salmon Farmers Market is an outdoor market with locally grown fresh produce and food products both hot and cold. The market will serve as a gathering place in the heart of town for community food producers and consumers. Help support your local farmers and know where your food comes from. Consignment table is available for backyard growers. Live music and fun for the whole family. Wednesdays starting July 6, 4-7 p.m. 230 East Jewett Blvd., White Salmon, Wash. Contact Craig Wilson at 509-254-1834 for more information.
Hillbillies play The Pines
Celebrate Hood River's First Friday at The Pines in Hood River. On June 3, from 5:30 to 8:30 p.m. it's the eclectic stylings of Portland musician Ron Hughes. Known for his extensive variety of songs, smooth baritone vocals and stunning guitar moves, Ron is a great way to start the weekend. Wander the new art exhibition featuring local artists Charlene Rivers and photographer Henry Schifter. Spend your Saturday night with the rambunctious crew from the Hapa Hillbillies as they fill the tasting room with their folksy tunes and original songs. Music is from 6:30-9:30 p.m.
Artist reception June 5
The Gorge White House will be hosting an artist reception for Karen Ericsson Martin on Sunday, June 5, from 1 to 3 p.m. Martin's medium is monotype prints and acrylic painting and will be on display the entire month of June. The Gorge White House, 2265 Hwy. 35, Hood River; www.thegorgewhitehouse.com; 541-386-2828.
Billingsley at Thirsty Woman
The Thirsty Woman in Mosier proudly presents Rainier Billingsley, a driving force behind the local singer-songwriter scene in the Gorge, playing Saturday, June 4, from 7 to 9 p.m. No cover and always a good time. Thirsty Woman Pub, 904 Second Ave., Mosier; 541-478-0199.
Rimba at Naked Winery
It's a double bill Friday at Naked Winery in Hood River From 4-7 p.m. it's the sweet guitar of Kit Garoutte, kicking off the start of summer. From 7:30-10:30 p.m. it's First Friday in Hood River — come dance the night away with Hit Machine playing rocking covers all night long.
On Saturday from 7-10 p.m. Rimba – Mark Daly, Kerry Williams, Polly Norris and Malcolm Brown explore acoustic rock and folk with energetic three-part harmonies. Some of our favorite locals get together for what promises to an enjoyable evening. Can you say date night?
On Sunday, starting at 5 p.m., it's Swing Crew — Linda McAllister, John Durkan, Mike Stillman, Paul Viemeister and Dennis Harvey. They play danceable swing, blues and popular hits of all eras.
On Mondays, it's a community open mic hosted by Les Vaughn. Local talent on display weekly starting at 7 p.m.
New on Tuesdays — jazz at Naked Winery featuring Chic Preston, Ryan Kolberg, and Mike Stillman along with many friends who play jazz, funk, soul, pop, swing and shuffle blues. 6:30-8:30 p.m.
'Smudge Pot' at Everybody's
Abe Stevens (from the Volcanic Bottle Shoppe in Hood River) and friends are heading over to Everybody's Brewing in White Salmon to perform as "Smudge Pot" — laying down "jammy rock and funky dance tunes." Friday, June 3, starting at 9 p.m. Upcoming shows: Casey Anderson Trio, Friday, June 10; The Ultronz, Friday, June 17; Lost City & Last Watch, June 24.
Dunnington at HR Hotel
On Friday, June 3, the Hood River Hotel will be hosting Big Ronnie and Medium Ben in the lobby from 6:30 to 8:30 p.m. Blues, ragtime and more. On Saturday, June 4, Connie Dunnington will be playing folk music from 6:30 to 8:30 p.m. The Hapa Hillbillies will entertain on Monday night, starting at 6:30 p.m.
Entertainment listings can be e-mailed to jdrake@ hoodrivernews.com