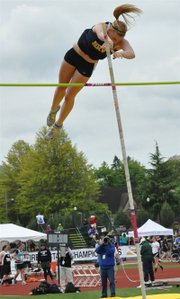 Olivia Campbell has her first-place medal, but she still wants more.
The HRV junior cleared the pole vault bar at 11 feet 6 inches to win the 5A pole vault title Saturday at Hayward Field in at the University of Oregon.
That wasn't enough; she wanted more, so she kept jumping.
She later attempted to equal her own Hood River Valley school record of 12 feet even, but missed in three attempts. And that had her a little peeved afterward, even with her win.
"Just winning isn't my goal; my goal is improving and I didn't do that," she said. "But I've still got another year."
Campbell could not train as much as she usually does over the previous week because she was recuperating from a bad sunburn suffered at the district meet the previous week.
"We just didn't go as hard as we usually do," she said.
She was able to rest through the early rounds and entered the competition at the 10-06 mark when only a few other competitors remained.
She missed her first attempt at the height, but easily cleared on the second. Annie Sidor of Summit and Tesla Wright of Bend also cleared to advance.
However, while Sidor and Wright took on the bar at 10-09, Campbell decided to pass through to 11-03.
The strategy paid off.
Both Sidor and Wright scratched out at 10-09, leaving Campbell to clear the bar at 11-03 to win the title.
"That was one of those ones where as soon as she left the ground you knew it was over," HRV coach Donnie Herneisen said.
She did so easily and got a tremendous ovation for the HRV contingent in attendance, which was sitting directly across from the pole vault pit at the stadium.
Campbell finished third in her first trip to state last year, and now has a first-place state medal, which she received from HRV vaulting coach Shawn Meyle at the award stand.
She didn't take much time to celebrate, saying she wants improve her heights next season, with both a repeat at state, a hope to break her own school record and a possible shot at the state meet record of 12-07 in the forefront of her mind.
"I'm really glad I'm first in state," she said. "But I'm still really looking forward to next year so I can improve my heights."
With one state title now her in her possession, she has her eyes on another next year - and hopefully grabbing a few records along the way.
Even as she looked at her medal and took a moment - but only a moment - to savor it, her gaze was already turning to next year:
"I'm not done yet."