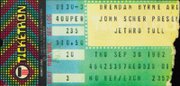 Jim Drake's Entertainment Blog
Anderson: Not Too Old to Rock n Roll
Online interview features rock icon Ian Anderson
The older I get, the more I'm looking at things and asking the question "How old is that?" Case in point. Last weekend I was finally able to unpack the contents of ten "Wal-Mart Size" plastic bins of what can only be described as the entire remaining physical contents of my childhood and younger adult life.
Pen-pal letters from about 5th grade. At least 15 different Boy Scout neckerchiefs. Wallet cards telling me I'm a Red Cross certified swimmer. A surprising amount of college notebooks. A brass bugle from Scotland. A white gas campstove that was used on every backpack trip I took.
Ecstatic over the promise of never having to search through the plastic bins ever again, I carefully placed everything on shelves and in cabinets and distributed the material about my new room. Once I get the windows open, the faint musty odor should be gone in a few days.
You know how it goes when you take on these unpacking projects. Part of the time is physically hauling it around, the other is handling each object and saying things like "why did I keep these canceled checks from 1993?" But most of the time I kept asking myself, "How old is that?"
Fortunately, for a lot of my stuff, closer inspection will reveal an exact date. Books, backs of photos and, more near to my heart, ticket stubs, all provided time frames.
An amazing artifact, the ticket stub tells me exactly where, when and who I saw in concert, right down to the seat location. And I've got dozens of them.
Sometimes, even more data on a particular rock concert is unearthed. Sandwiched between high school yearbooks and god-knows what else, I discovered three or four original concert programs. You can think of these small pamphlets as the Rock and Roll equivalent to the Broadway "Playbill."
I carefully separated the fossilized pages of one and laughed when I realized what I had. It's been 29 years since I first picked this up.
I never would have thought, that after all this time, the teenager who watched Jethro Tull from Section 235, Row 20, Seat 3 of the Brendan Byrne Area in N.J., would get to ask Ian Anderson a few questions about his current tour and discuss music. Jethro Tull will be in Troutdale at the end of the week.
By the way, the price of that 1982 ticket? $10.50. The memories I'll get when I look at that same ticket in 20 years? Priceless.
About the interview.
So, I got a call one day in April. Out of the blue, really. A woman asked me if I would like to do an interview with Ian Anderson of Jethro Tull. The band is playing at Edgefield McMenamins in Troutdale on Friday, June 17.
After some co-workers brought me back to life with some water in the face and smelling salts, I said, "of course I'd like to, are you kidding?!"
I was upfront and said that Troutdale wasn't in our regular circulation area, but I thought that there certainly should be some folks in the Gorge who would have an interest in the music aspect. She said that was fine, whatever we could do, and we went through several email exchanges to set up an interview. Actually, I would have been fine with just an e-mail interview, but the nice lady told me that Ian thought email was "too much like homework, really," and we'd have to use the old-fashioned telephone.
Now, if we can, I just want to frame up what I'm up against here. We're talking about a music group that has been in existence since 1967. The band's leader, Ian Anderson, has essentially created a folk/hard-rock genre of music - and he did it by integrating an instrument that is foreign to the rock and roll world – the flute.
The commercial success the of 1971 album "Aqualung" continues to this day as a staple of classic FM rock stations.
So, was I nervous about this project? You bet. I mean, what could I possibly ask this guy — that hasn't been asked before? I mean, volumes of material on every lyric and chord, album and tour can be found online, and that's just the "official" sites.
So I kept it simple. We talked about the current tour, the process of working with a symphony and using computer music programs and the process of re-mastering albums. I got him to talk about why he chose the flute, his pre-Jethro Tull days and the benefits of trying to play new instruments. He talked about some of the inspirational music venues he's played, and what I hoped to be somewhat of a relevant point related to the Northwest — his foray into fish-farming.
And what did I get? I think I got a nice story about music. Ian Anderson is very talkative, you ask the question and he'll go on and on. He truly seemed to enjoy talking about his work and his music — with a unique edge of humor that had me cracking up at times. For instance, I asked him if he wrote out the scores for his music when he does orchestral dates or does he have help? And he said at his age, he has a lot of help — with the washing up, the grocery shopping, and making the beds.
Overall, I think this particular quote sums it up. Anderson is an advocate of trying an instrument that you've never played before. ". . . But I think it's always a good objective lesson to pick up a instrument you can't play and have a go with it. I've strongly suggested that to other notable musicians that are afraid to try, because they're afraid that they're gonna make fools of themselves . . . and I always say "don't worry about it - just do it" – you know, we all play wrong notes – and sometimes playing the wrong notes takes you in a musical direction that offers up new horizons."
Jim Drake's interview with Ian Anderson is online as an audio file on www.hoodrivernews.com. (35 min)