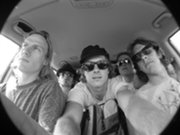 I remember a few years ago going to a fundraiser for the Waterfront Park. Pints for Parks, I believe it was called. In fact, I know it was called that, we still have the pint glass. Anyway, the park blueprints were displayed, and I remember noticing a feature that really caught my eye.
An amphitheater.
"Finally," I said to myself, "somebody's planning a nice permanent stage down by the Columbia River." It's about time.
All we need now, is a cool band to come down and kick things off for the summer.
Current Swell celebrates Windfest on June 25, 8-10 p.m. at the Waterfront Park.
Guitarist Scott Stanton stops by on my blog to talk about Canada's new acoustic-surf band, Current Swell. If you get a chance – check out their YouTube stuff – nice work!
Hi guys – thanks for putting Hood River on your tour schedule! How did you guys get on the schedule for windfest? You must know of Hood River through the windsurfing network… have you guys ever been here before?
We've never actually been to Hood River, and we're thrilled to come down to play there.  We did a tour of Maui in February and the promoter there passed on our music to the organizer of WindFest and asked us to come.  WindFest really started this whole tour off, once we got that date our manager worked some magic and got us gigs down the coast.
Great job on the "Young and Able" video. Musical question: How did you guys figure out how to put acoustic surf and reggae together?
We never called ourselves surf rock, other people did, but it's flattering we've been accepted into that circle—especially being from Canada. Folk, rock, blues and reggae basically elements from all the music we love.  We all have different musical tastes that we bring to the table and just found ways to make them work together.
Please tell us who's all in the band, a bit of your background and how long you've been playing music.
The whole band, in a way, was kind of a fluke. It's cool how it all fell together so nicely for us. Me and Davers [Dave Lang], the other songwriter in the band, met 7 years ago in University through an Edmonton connection and started playing songs. He'd learn my songs, I'd learn his. We built up a following in Victoria with other members playing bass and drums.  We met Chris Peterson the drummer while recording our 2nd album in 2007 and he's been rocking it with us ever since.  Ghosty started playing with us just after we finished recording "Protect Your Own" in 2009. We're a weird bunch of guys to be playing music together, but it really works.
Your press release describes a "roots movement" that you're part of. What bands influenced your decision to make this kind of music?
Really just all the music that we love.  We've toured a bunch with Ash Grunwald and Xavier Rudd who we're all big fans of.   We're not just a roots rock band, but a group of artists that started out jamming Bob Dylan tunes in the backyard in this same fashion.  I'm a huge Neil Young fan as well as newer bands like Beach House, Arcade Fire, Black Keys to name a few.
This leg of the tour (Portland/Hood River) must seem pretty easy after your Australia/Indonesia trip. How was the response to your music on that trip and where do you guys head to next?
Indo and Aus was one of the most amazing tours we have ever done.  Ash Grunwald is a fantastic guy and gave us the opportunity to play cities we never knew of.  It was pretty amazing to play a gig one night then head out for a surf the next day.  The nice thing about this tour is we hopped in our van and drove across the border and had our first show only 3 hours away from BC.  So far the response has been amazing. Only 2 gigs into the tour but we are thrilled with the turn outs.  This summer we have a bunch of gigs in Canada including an amazing Blues Festival in Salmon Arm BC with acts like Taj Mahal, John Butler Trio and Broken Social Scene.  We hope to come back down to the States in the fall after our new album is completed.